I make no bones about the fact that Dave Spaulding is my mentor. I subscribe to the tenets of Handgun Combatives because it offers training models that are the most applicable to the Tier 1 Citizen. In an effort to faithfully reproduce Dave's work and advance learning, I run his drills on steel targets. Unfortunately you can't do this sort of thing easily with rifles. I decided to bribe that gap recently and I've invested heavily in steel targets that fill the bill.
For this video I've taken Handgun Combatives' "15 to the 3rd" drill and have put it on steel. The skill sets that are needed to survive a gunfight are woefully under-taught in the training industry because few trainers really want to have people running back towards the line with a chambered firearm. Training is dangerous, it is what it is. However, the last thing you want your fellow countrymen to have to learn is how to move safely with a gun right in the middle of a gunfight. The skills needed to prevail in an armed confrontation are moving, stopping, stabilizing, deciding, shooting or moving again.
In an effort to give you guys the same experiences I have on the range I have heavily invested in steel targets from Challenge Targets. These targets are the best thing I've ever used because they are robust, easy to put up, and easy to reface with nothing more than spray paint. The best and fastest way to learn when shooting is by shooting steel. Within 300 milliseconds of witnessing a hit on steel your brain creates a new neural pathway and labels it "success!" There's a reason the pros train on steel - think about that.
Who is Tier 1 Citizen: https://tier1citizen.com/about
Interested in T1C slings: https://tier1citizen.com/shop/ols/cat...
---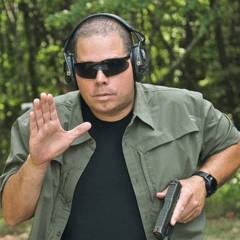 Is a former Police Officer, an FBI trained Hostage Negotiator, a First Responder, and Spanish Interpreter. He is currently a Firearms Instructor, an Armorer, and a regular contributor to our industry of both written and digital media.