Driving' Concealed in My Automobile—so you want to carry in the car?
News headlines leave no doubt; anyone can be a target of violent crime while inside, or getting into or out of, their car. At the same time, many students tell me they only carry while in the car. While I'd like to hear them say they carry all the time, at least they're armed in the vehicle—or are they? Let's take a look at some considerations for having a self-protection handgun in the car, and the good and bad potential outcomes for various storage locations.
In general, your gun(s) should be under your control at all times. There are occasions when it's appropriate to leave a firearm in the car. In these cases, there must be no access to the car by children, teens, or unauthorized adults, AND the car must stay locked. If you're one who can't remember to lock your car doors consistently, it's just a matter of time until the gun is stolen or involved in a tragedy related to a child handling it. If you're forgetful about locking the car, there's no judgment implied about it, but never leave a firearm in an unlocked vehicle or a vehicle that can be accessed by minors.
These storage locations are provided with the gun carrier also being assumed to be the driver. Of course, adjust accordingly if you're a passenger.
---
Door Slot:  I'm sure car makers have a fancier name for that molded pocket that's at the bottom of the inside of most car doors today. Keeping a gun here has the following
PROS
・The firearm is out of view, unless it's so big it exceeds the pocket's boundaries.

・The grip can stay predictably indexed for fast, safe access.

・It's out of reach of children or others in the car, so long as the driver is seated.
CONS
・In a carjacking, it's likely to be the driver's side door that's attacked. In that case, the gun may be out of reach, or you may need to get a bit closer to the threat in order to grab it.

・In a rollover, the gun can become a concussion-making projectile.

・Two-handed deployment is necessary for a holstered gun in the car door (and it does need to be holstered).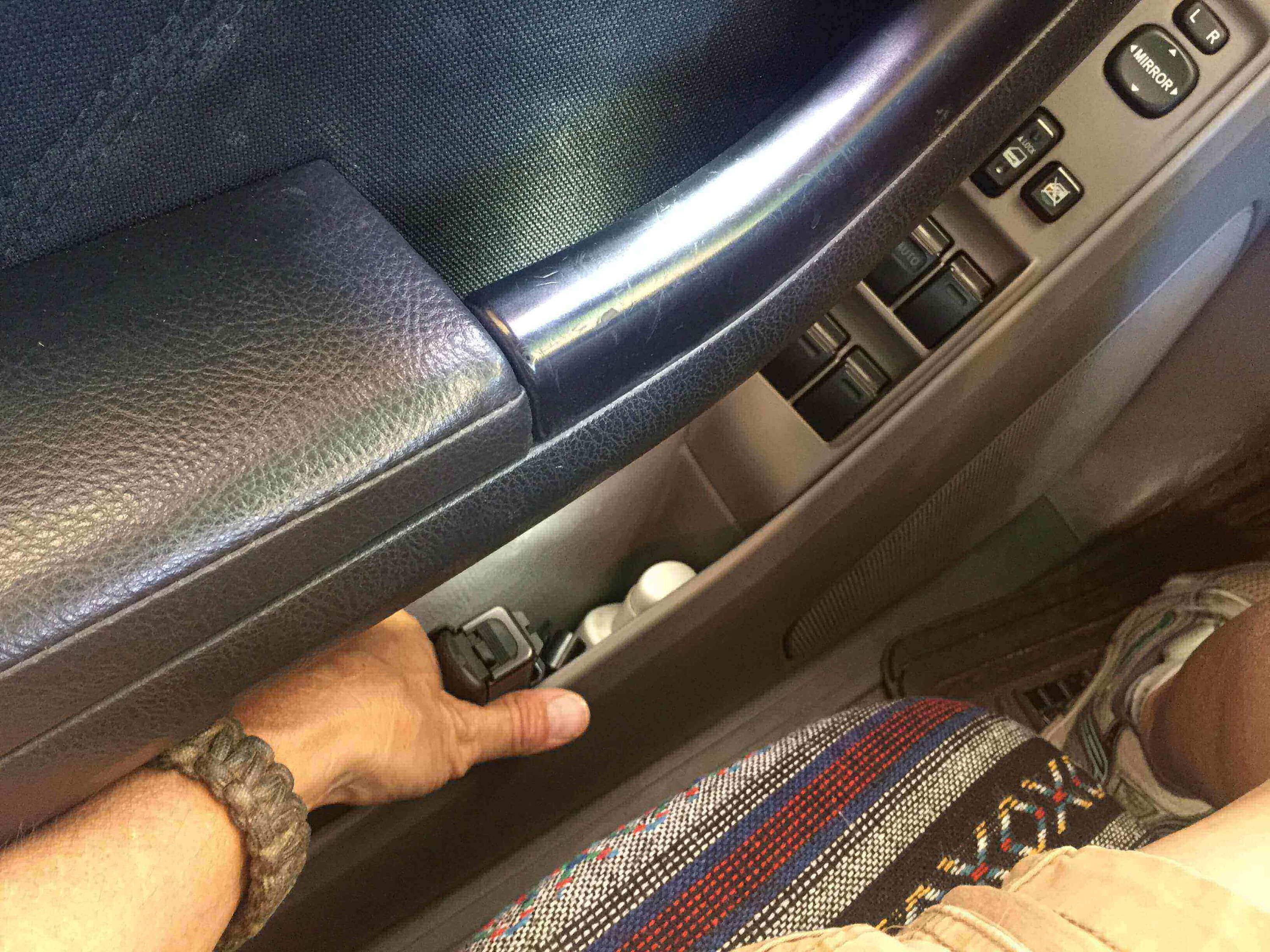 ---
PROS
・The firearm is out of view.

・The firearm is relatively accessible.
CONS
・A secure holster or absence of any other object in the console is a must for safety! Especially in a collision or just while fiddling around trying to find some object, it's possible that a pen, nail clippers, or some other random item can enter the trigger guard and the result is a negligent, possibly injurious or deadly, discharge.

・The gun is accessible by whomever sits in the passenger seat.
Magnet Holsters: As advertised, this is a simple length of magnet bolted between the storage console and dashboard on the driver's side. If mounted to a door in an industrial or older-model vehicle where that's possible, refer also to door slot carry.
PROS
・Secure carriage of the gun that's unlikely to break loose, even In a collision.

・Easily accessible.
CONS
・Visible to both potential thieves and law enforcement* when mounted as advertised.

・Many vehicles don't have enough metal to pull this off.

・Drilling into dash may be required, decreasing car's value.

・Potential for outside objects to enter trigger guard.

・Potentially accessible by others in cab.
---
Under-Dashboard Holsters:
PROS
・Unlikely to break loose, even in a collision.

・Readily accessible.

・Assuming deep mounting, relatively hard to detect from outside.

・Some models have holster mount adapters to switch easily between hip and under-dash carry.

・Relatively good security of both trigger and prevention of access by non-driver occupants.
CONS
・Can cause leg damage in a crash.

・Safe drawing and presentation of the firearm will require extensive practice and may involve navigating around the steering wheel and breaking the muzzle safety rule. Trigger discipline is non-negotiable here!

・Some models require drilling into the dash.
---
Glove Box:  
PROS
・Low visibility.

・Potential for interference with obtaining documents during a traffic stop.
CONS
・Near-impossible emergency access.

・Easy access by passengers.

・If not also in a sheath, potential for other objects to enter the trigger guard and cause a negligent discharge.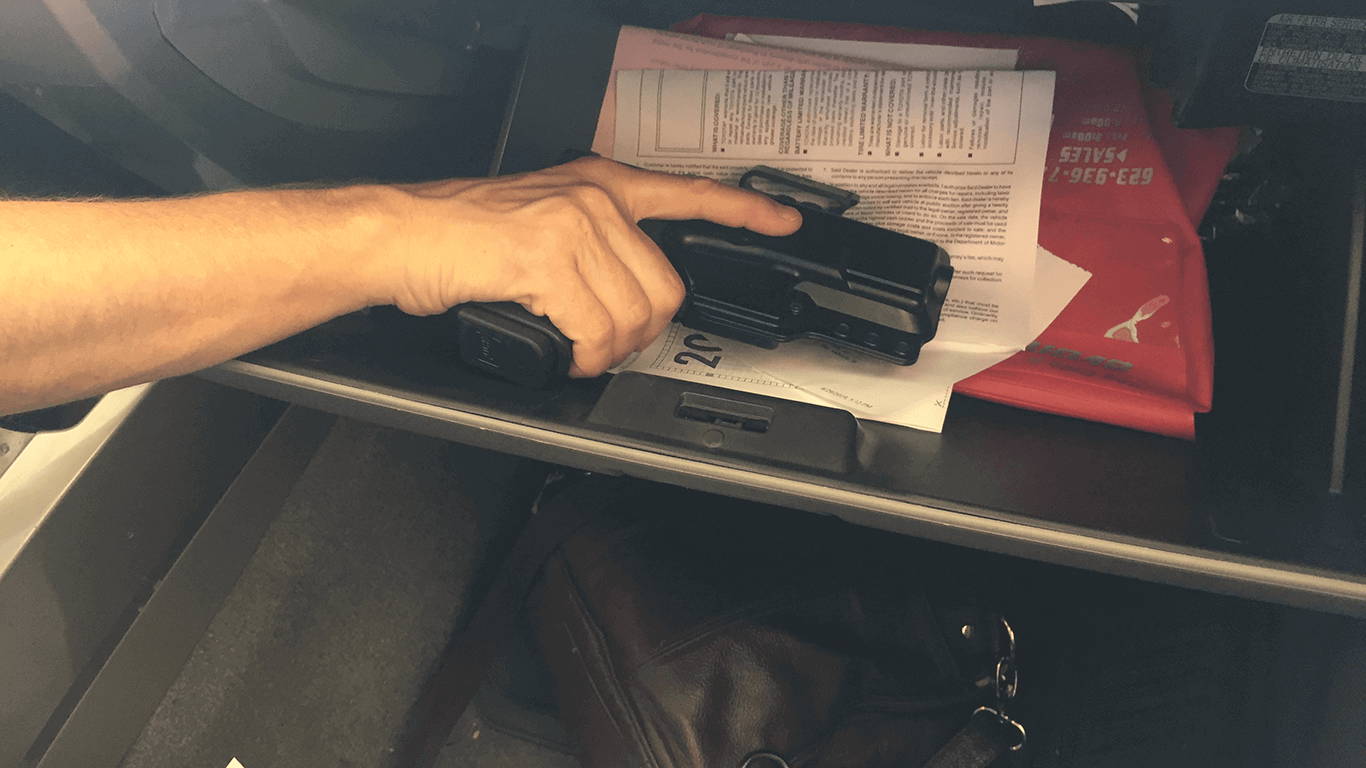 ---
PROS
・Near-complete security from thieves or curious little hands. Total trigger guard security.

・Low visibility.

・If mounted or tied down under the driver's seat and insulated, there negligible collision-related risk.
:
・Access can be slow unless fitted with biometric or simple combo access.

・Most expensive method of those mentioned here, if done well with quick electronic access.

・Batteries die, especially in the excessive heat of a vehicle in the summertime.

・Some older e-safe models are easily broken into with simple methods.

・It's easy to forget a gun is under the seat in a safe. Maintenance is easy to neglect, and theft may not be noticed right away.
Au Naturel, AKA tucked between cushions:
PROS
CONS
・Easy access by everyone else.

・Visible from outside.

・Can become a projectile in a collision.

・Not necessarily protected from trigger guard interference.
---
In my usual concealment place, i.e. IWB, OWB, purse, pocket:
PROS
・The gun will accompany you when you leave the car.

・Purse carry leaves the gun accessible to others and vulnerable to theft.
CONS
・Access by driver can be impeded or near-impossible depending on carry method.

・Drawing can require violation of muzzle safety rule.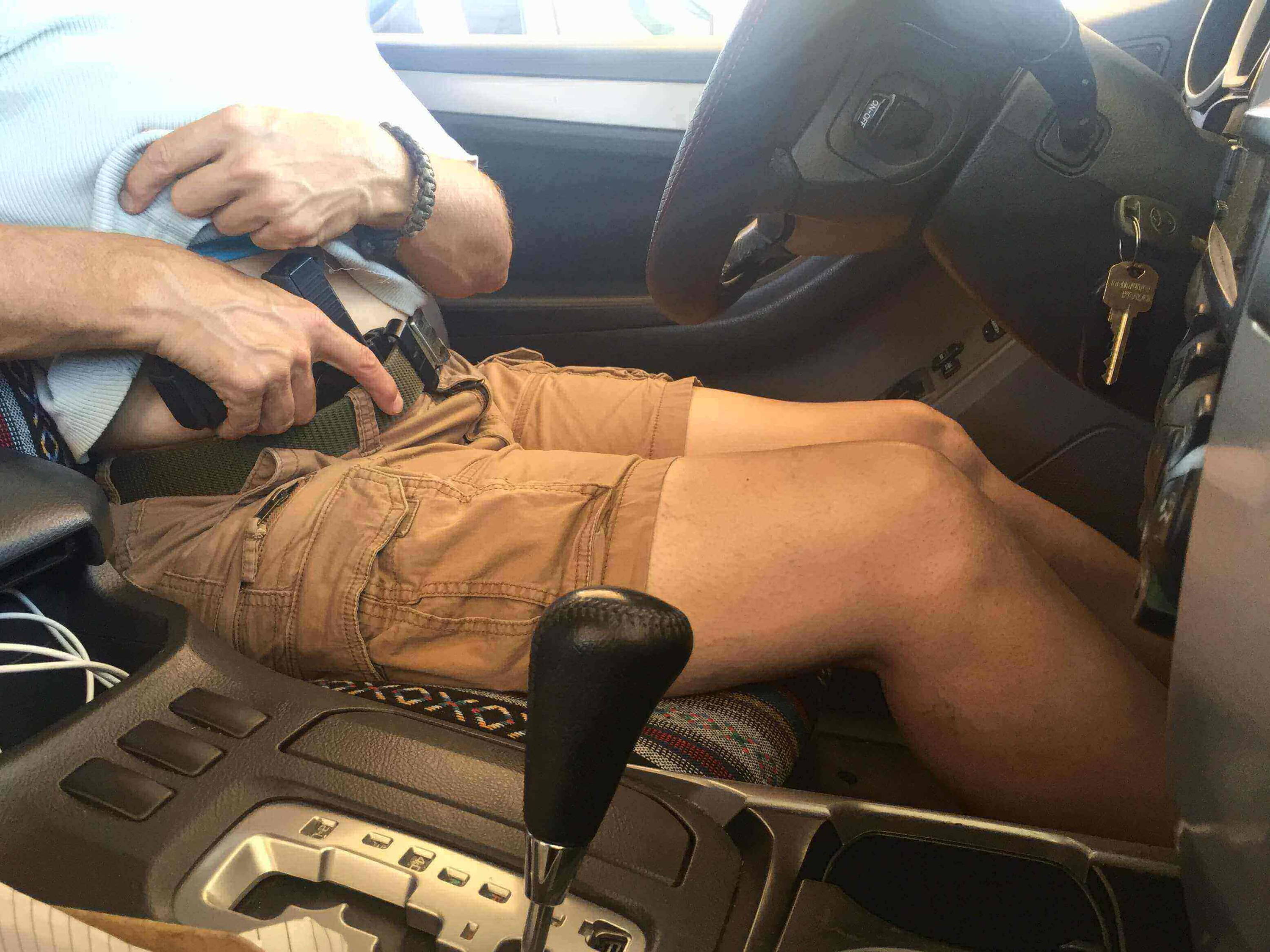 In case I've not emphasized it enough, TRIGGER DISCIPLINE, AKA KEEPING YOUR BOOGER HOOKS OFF THE BANG SWITCH, is critical for safe gun handling in a car! There will likely be moments when the safe-muzzle rule is broken in the process of drawing or aiming. In those cases, your finger is the only thing between you and tragedy. Be an objective observer of yourself as you decide what car carry method, if any, is safe for you.
We hope this list has given you some things to consider when driving armed. These are not the only choices for vehicle carry, just the most common. If you have a method that works well for you, please comment on it below.
*A preference for low visibility of a firearm to law enforcement is NOT to be construed as disdain or ill intent toward officers. In general, is better that the topic of a firearm be raised through discussion, not observation, during a traffic stop. Most officers respect lawful carry. Some do not, and some are understandably on edge regarding the presence of a firearm considering the current "war on cops." In some cases, less-than-desirable treatment of lawful gun carriers has ensued following the observation or disclosure of a firearm's presence. Know the laws regarding automobile carry and verbal disclosure in every state where you travel. A great resource for travel preparation is www.handgunlaw.us  
---
Eve Flanigan is a defensive shooting and concealed carry instructor living in the American Southwest. Today she works full time as an instructor and writer in the gun industry. Flanigan loves helping new and old shooters alike to develop the skills needed to keep themselves and their loved ones safe.