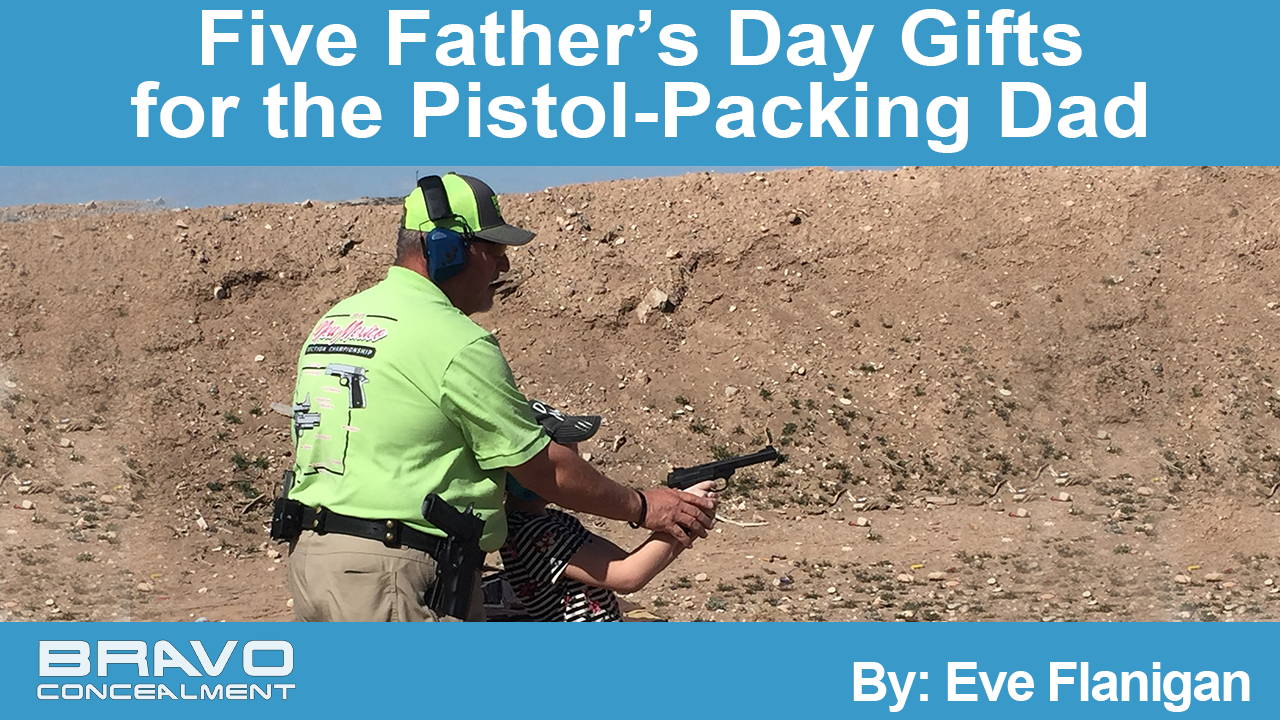 Good ol' Dad. Chances are he introduced you to shooting. Chances are you have some great memories around shooting with him. So why not surprise him with a gift he'll get some pew-pew mileage from? Here are five easy, affordable gifts for the gun guy in your life.
---
These safety-rated eyeglasses are made for any adult. From basic, good-looking protective sunglasses to prescription lenses in every shade from clear, to light-gathering amber, to dark, SSP Eyewear makes it happen. For dads "of a certain age" who use bifocals or reading glasses, SSP makes shooting-specific lenses with the magnifying section at the top of the lens, so dad can see that front sight in sharp focus again! Yours truly has worn lenses and frames from SSP's Chelan kit for three years. The lenses are tough and the frames don't deform from daily wear like my other glasses have.
---
Federal Syntech is clean-burning ammunition that's great for matches, indoor shooting, or high-round count practice and recreation. The synthetic red jacket adds a festive touch for Father's Day range outings. This is reliable ammo that I've run in at least seven pistol brands without a hiccup. On a budget? A box of 50 rounds is an affordable and practical gift. Or go big and buy 500 or 1,000 rounds. After all, there's no such thing as too much ammo!
---
Exos Gear makes a range bag that's chock-full of features, durable, and pleasant to use. The big flap and dual zippers are quick to operate and offer full visibility and access to goods in the main compartment, which has a reinforced bottom. The side pockets open wide with heavy-duty zippers and are large enough for earmuffs. The handles can be joined with a canvas/Velcro handle for easy hand carry, or use the padded shoulder strap that attaches with quick release buckles. The Exos bag has been my carbine companion for a couple years and it's earned my affection with its ease of use, sturdy construction, and good looks.
---
If Dad loves doing his own gun mods and installing one accessory after another, or if he's into carpentry or mechanical pursuits, he'll sing your praises for the frustration you save with this one. A little magnetic tray is available at your local auto parts store. It's the perfect catch-all for the tiny nuts, bolts, and washers that inevitably roll away, blow away, or get knocked off the table by the family cat when working on optics, triggers, and such. For less than $10, you'll have enough left over to treat dad to ice cream at day's end like he once did for you.
---
Some dads my not be keen on the edgy marketing campaigns of a certain high-profile, pro-gun coffee company. There's another veteran-owned company that provides a high-quality brew with a touch of military nostalgia with artistic appeal for any generation. Check out the new pro-gun java vendor on the block, Old Army Coffee. They have a variety of brews sure to please the pickiest of caffeine aficionados.
---
Gifts are great, but gratitude is better. Don't forget to thank Dad for his role in helping you appreciate firearms and the natural right to defend self and family. A little expressed gratitude about what's good in our lives, from each of us, can go a long way in healing wounds and strengthening bonds—in families, neighborhoods, and nations.  Have a joyful Father's Day.
---
Eve Flanigan is a defensive shooting and concealed carry instructor living in the American Southwest. Today she works full time as an instructor and writer in the gun industry. Flanigan loves helping new and old shooters alike to develop the skills needed to keep themselves and their loved ones safe.