I'm not sure when the big switch from carrying gear on a vest rig went to carrying gear on a belt but I'd like to say I was a cool guy when it happened. By cool guy I mean active duty Marine Infantryman. I think it had a lot to do with the advent of smaller and lighter plate carriers with less room to mount gear. In 2009, I was in Afghanistan and witnessed a massive change in my squad. Guys were dropping gear from their plate carrier to a variety of belts. We did nothing but foot patrol so a Marine's width wasn't the issue. As time moved on belt rigs became the norm and so did belt ready gear. Almost ten years later we have gear like the Bravo Concealment AR mag pouch.
The Modern Difference The Bravo Concealment AR mag pouch is made almost entirely from Kydex, if it's not kydex its metal. As mentioned above this is a belt mounted mag pouch and you have to order it specific to your hand orientation. The magazines are canted slightly forward for a quick and easy draw with your weak hand.
The design is an opt top and the retention is based around friction. With the Bravo Concealment AR mag pouch, you can adjust the tension via a single screw. This is great because you can adjust it for the slight differences most magazines will have. With so many companies making so many different, magazines this adjustment is a great feature to have.
In my experience, these magazines have zero issues accommodating the following magazines.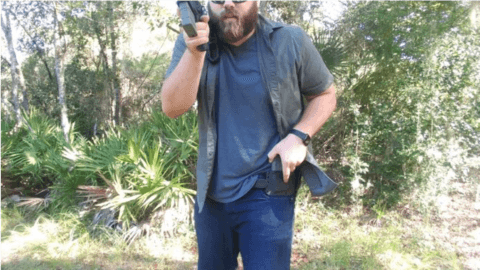 Magpul P-Mags

Lancer Hybrids

Mission First Tactical

Hexmags

USGI Style aluminum magazines
I have yet to find any that didn't fit the magazine pouches, but with so many different AR 15 magazines out there, it's likely one doesn't fit. I can't say every AR 15 magazine will function with the Bravo Concealment AR mag pouch. The most important magazines for me work, so I'm good.
The Bravo Concealment AR Mag Pouch in Action I was a machine gunner so rapid reloads of a rifle weren't that necessary of a skill to me, but we did them enough where I know my baseline. These are so much faster than a traditional flapped mag pouch mounted on a carrier. The belt area is just much easier to reach, especially when you are keeping a rifle aimed downrange.
Grip, rip and reload is all it takes. The cant of the Bravo Concealment AR mag pouch is perfect and makes it intuitive and quick to get your mag to your gun. The magazine pouch features a slight curve, very slight, that pushes the magazine away from the body. This makes it easy to get your hands around the magazine when pulling for a reload.
System Integration If you are looking for just an extra magazine pouch or two then you are good with just these pouches. A combat load of 7 30 round magazines is a bit rougher. However, the Bravo Concealment AR mag pouch is still well suited for a combat load setup.
Plus, if you remove your gear for something like a meeting with the village elder you'll still have a mag pouch on hand in case you have to move to aggressive negotiations.
The pouch is rock solid and well made. I've done it over and over and the retention doesn't loosen and neither has the belt clips. It's a simple design, but damn does it work. If you are looking for a belt mounted rifle pouch I'd suggest the Bravo Concealment AR mag pouch with complete confidence.
Travis Pike - http://gatdaily.comTravis Pike is a former Marine Machine gunner who served with 2nd Bn 2nd Marines for 5 years. He deployed in 2009 to Afghanistan and again in 2011 with the 22nd MEU(SOC) during a record setting 11 months at sea. He's trained with the Romanian Army, the Spanish Marines, the Emirate Marines and the Afghan National Army. He serves as an NRA certified pistol instructor and teaches concealed carry classes.