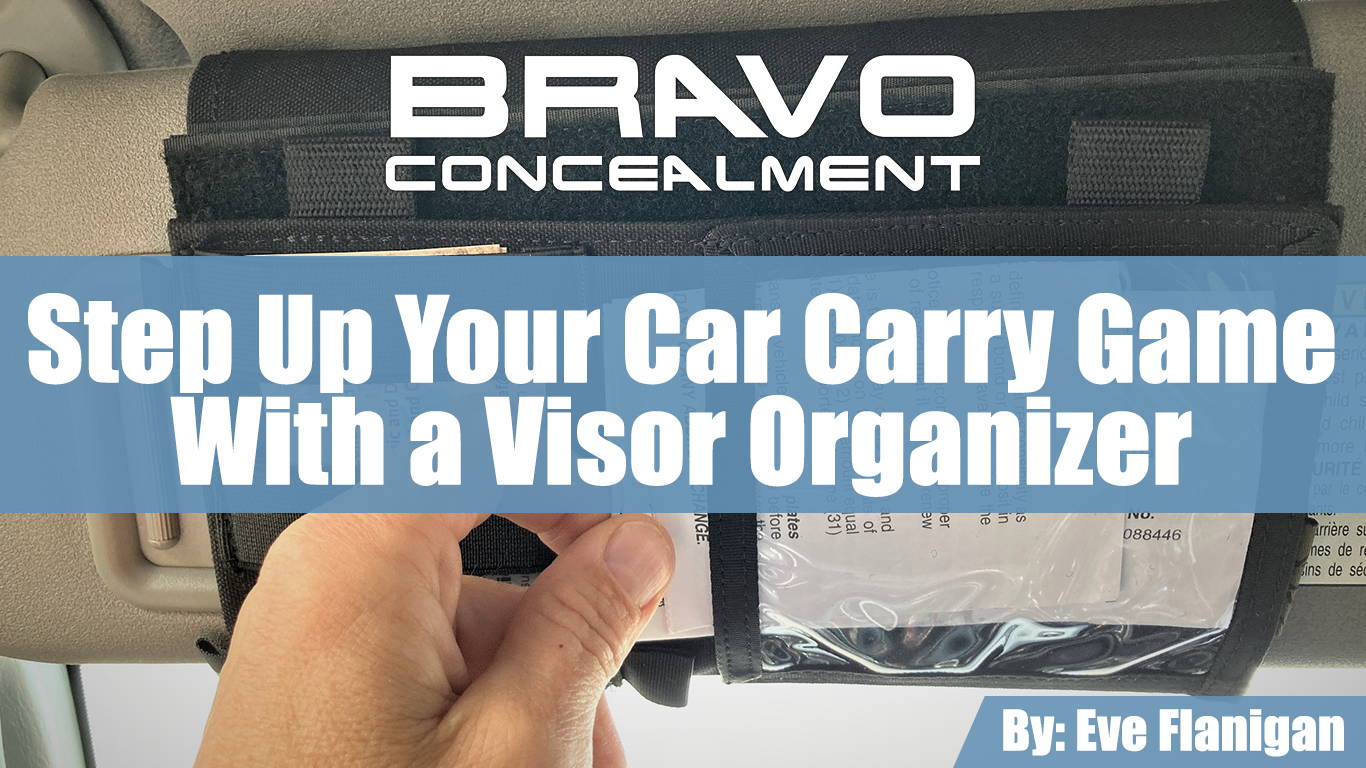 If you're a regular reader of the Bravo Concealment blog, and maybe if you're not, you already know that having those registration and insurance documents within easy reach is a good way to put the odds in your favor of having a pleasant-as-possible interaction with police if you're pulled over for a traffic violation. 
Long story short, your hands should stay visible and well away from any guns in the car. One way to achieve this is to retrieve the driver's and, if required in your state, concealed carry license first before the officer steps out of their own vehicle, as those items are typically in a wallet or purse. Second, insurance/registration papers are best stored around the visor so that hands are visible as you reach for them. 
For years, I stored those documents on the visor, alright—in a paper envelope secured with a rubber band and a binder clip. It wasn't the nicest look, but I was compliant with my own recommendation. Recently I had the opportunity to up my game in the visor storage department, thanks to a company with a cool name—Tasmanian Tiger. This tactical goods company makes an organizer called the TT Sun Shade Cover  For the last couple weeks I've been using it in lieu of that old envelope, and I'll never go back. 
The tri-fold Cordura organizer wraps around any visor with a circumference of 11 to 14 inches, securing with Velcro. One exposed side has a clear window pocket into which I've inserted my registration and insurance, with identifying information facing in of course. There are elastic straps beside it which so far are handy for storing business cards in easy reach yet out of danger of wear and tear like they had been in my console. 
If I wanted to carry larger but flat items, like a business or money envelope in the Sun Shade Cover, it'd be easy to slide those between it and the visor for secure but discreet carriage. On days when my dog is riding shotgun and potentially crumpling important mail items, that's a godsend. 
On the opposite side is MOLLE material. On it I've stowed a compact flashlight and pen. They're much easier and faster to access in the Sun Shade Cover than they were in my driver's side door pocket. 
What's perhaps least important for function, but I confess I'm enjoying it the most, is how clean and professional my visor system looks now. The Sun Shade Cover makes me more efficient and fulfills the purpose of keeping things just where they need to be if I ever see those blue flashing lights directed at my vehicle. But the best part of having this little bit of kit is the feeling of confidence and satisfaction that doing the right thing can look good, too.
That good feeling and the organization that comes with it is available to anyone. Tasmanian Tiger offers the TT Sun Shade Cover by direct order for $21.95. It's earned my respect as a handsome and worthy choice to up your concealed carry organization game, and can be utilized even by family members who drive the vehicle but don't carry a firearm.
---
Eve Flanigan is a defensive shooting and concealed carry instructor living in the American Southwest. Today she works full time as an instructor and writer in the gun industry. Flanigan loves helping new and old shooters alike to develop the skills needed to keep themselves and their loved ones safe.