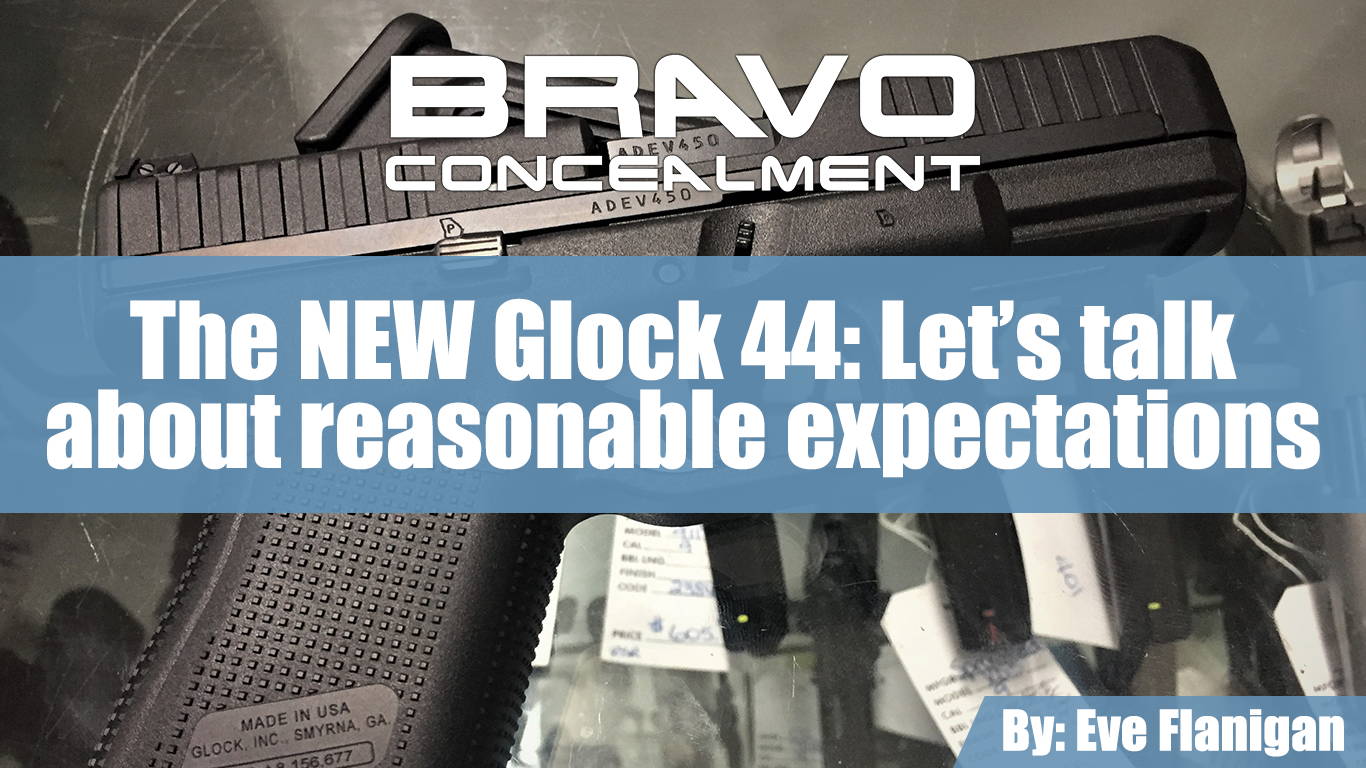 The news broke shortly before SHOT Show 2020:  Glock rolled out its first .22LR pistol, the Glock 44. Would it be a hit? It certainly is based on a safe choice, with the same appearance as the company's madly popular model 19, not to mention the .40 S&W Glock 23. Would a rimfire Glock be as trusty as their centerfires? Now, a few months later, the data is beginning to roll in. My experience shooting a G44 amounts to two magazines (20 rounds) at the SHOT Show range, however there is no shortage of feedback on this gun in the media. This article summarizes the current most common brags and nags about it.
While this pistol occupies the same footprint as the venerable G19, it sports front cocking serrations as well as rear ones—perhaps a portent of a red dot-ready slide to come. It's also lighter than its centerfire counterparts, thanks largely to its steel/polymer slide. Other controls---the magazine release, always-ambi slide lock, and trigger operation—mirror Glock Gen 5 models 19 and 23. The sights are pure Glock with the adjustable, dovetailed "U" rear sight everyone expects from the brand.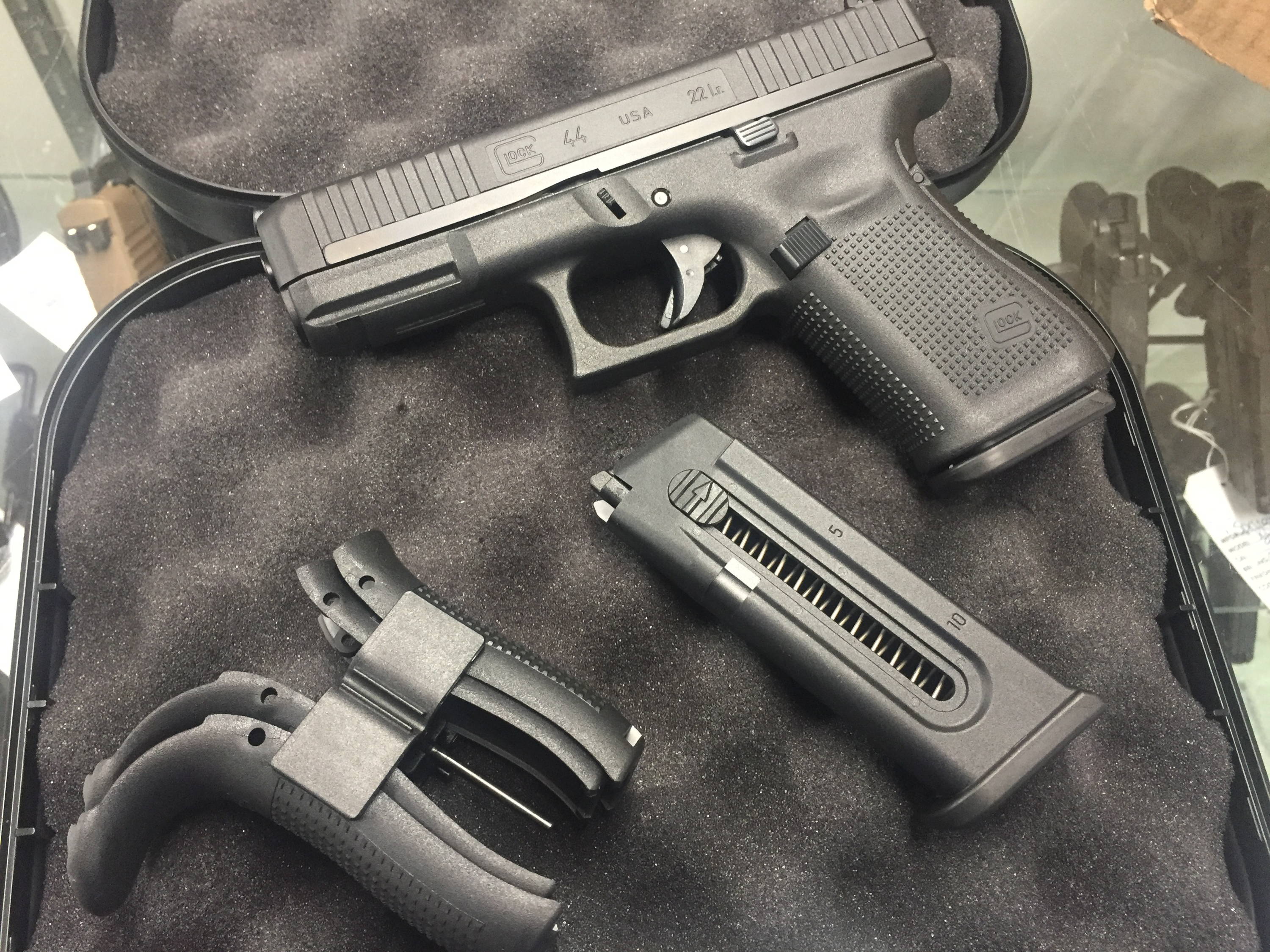 ---
Each G44 ships with two 10-round magazines. Yep, only ten rounds, in a double stack-size frame that holds more rounds of any other available caliber. Even the G36, the subcompact .45 ACP holds ten rounds in the mag. This seems to be the single universal complaint about the gun. A person well-steeped in the international gun industry (at least on the legal side of it) once opined that Glock plans products for a worldwide, not a US, audience. Maybe this one was supposed to be for the substantial segment of consumers who live behind the invisible walls of maximum 10-round magazine laws, I don't know.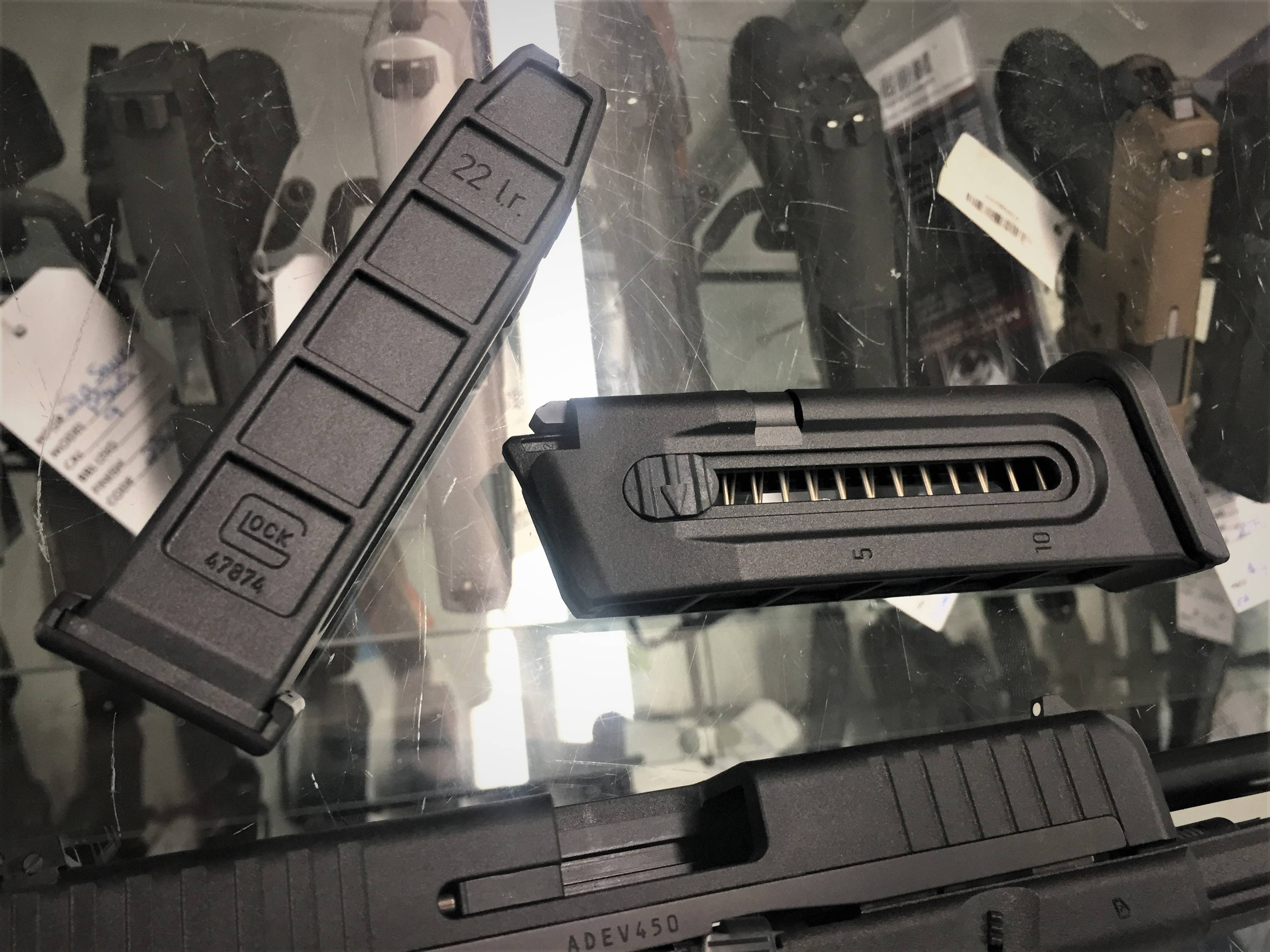 ---
There are some great upsides to the G44. As a training tool, it offers an excellent stepping stone to larger calibers, especially is one is stepping up to a Glock 19 or 23. Where "muscle memory" is concerned, everything's in the same place. The only difference, of course, is recoil. The .22LR chambering takes all that away, allowing any beginner to practice the fundamentals in a way that's less likely to develop, or perhaps more likely to remediate, accuracy errors that result from anticipation—the most common shooting mistake.
A few isolated complaints seem to have emerged about the G44 extractor. These seem to be limited to the earliest models, and available reports from customers show a speedy and effective fix by Glock.
The other, more common gripe is regarding the magazine and how it tends to position cartridges at an angle that's not quite upward enough for the slide to chamber the round. I never saw this problem at the SHOT range, however it is well-documented in a number of online reviews. Glock's instruction to place the base of the mag on a table while inserting cartridges into the mag is quite unpractical. The mag does have a spring compression button, similar to those in other brands of .22 pistol, to make loading easier. But it seems even if the angle problem is addressed by paying extra attention to how the top round is seated, the problem crops up with later rounds in the same magazine. This is a design problem that Glock needs to fix, and I expect they will. Early models of the Glock 42, the company's first .380 ACP, famously had various feeding issues associated with ammunition "preferences," which usually boils down to bullet shape. My own 42 is one of those guns. The company quietly resolved the problem without ever publicly admitting it existed, and later-model 42s seem to run like a proverbial top. I suspect the same will be true of the 44.
If you're thinking of purchasing a Glock 44, or any brand-new model of firearm for that matter, my advice is to give the company at least 18 months post-release and purchase a new gun that left the factory recently. This is the best way to ensure any post-release corrections, admitted by the company or not, have been made. Sure, the cool factor among your friends may be a bit less when your "new" gun shows up at the range when the news of 2021 releases is on the magazine covers, but it's more likely the gun will work! But hey, if having the latest hot release is what makes you happy, then take a chance and buy one now. And thank you for your part in keeping the industry vibrant!
All this may have sounded a little pejorative regarding Glock's latest. But let's look at some differences between .22 and the centerfire bullets most people are accustomed to shooting from handguns. The forces at work:  spring weight and bullet weight, to put it in the simplest terms, are much less with .22. Think about the possibility of poor performance hitting a Wiffle ball with a plastic bat versus a real baseball with a Lousville Slugger. Regardless of the name embossed on the slide, there is more potential for error with .22!
Another difference is in the materials used to assemble and coat rimfire versus centerfire cartridges. If you've shot much .22 ammo, especially in a semi-auto rifle or pistol, you know that black, sometimes gummy buildup accumulates and interferes with the feeding and cycling process much faster with .22 than any centerfire caliber. This is in part due to common coatings that, with a perfectly clean and lubricated gun, actually help function. Black oxide is the most common coating, and may be present in combination with beeswax. In addition, beeswax is used in some brands as a sort of adhesive to keep the bullet seated in the case. In most cases where I've seen issues with malfunctions of this gun caught on film, when it wasn't from the top round being at a too-flat angle, it was when the shooter was firing entire magazines full at a fast rate of speed. Beginning to see that maybe the problem isn't all Glock's?
To be sure, the quality of .22 ammunition varies greatly. I suspect some of the cleanest-cycling will be from synthetic-coated rounds. In my experience, any .22 under the CCI brand—especially Mini-Mag and TNT Green (the latter a non-lead round)—is cleaner and more satisfactory for intensive use in just about any gun. CCI is a product under the Federal Premium flag, the same folks who brought synthetic-coated ammunition to broad availability.
So buy that G44 if you want, and run high-quality ammunition by CCI in it (by the way, I didn't receive anything for saying that). Clean it on the regular, including on the range after every 75 or so rounds. Using the comments section below, chime in with your own experience using a Glock 44 and let us know whether you'd buy it again if you had the choice.
Speaking of, average market price for a Glock 44 is in the ballpark of $400, including shipping and transfer fees.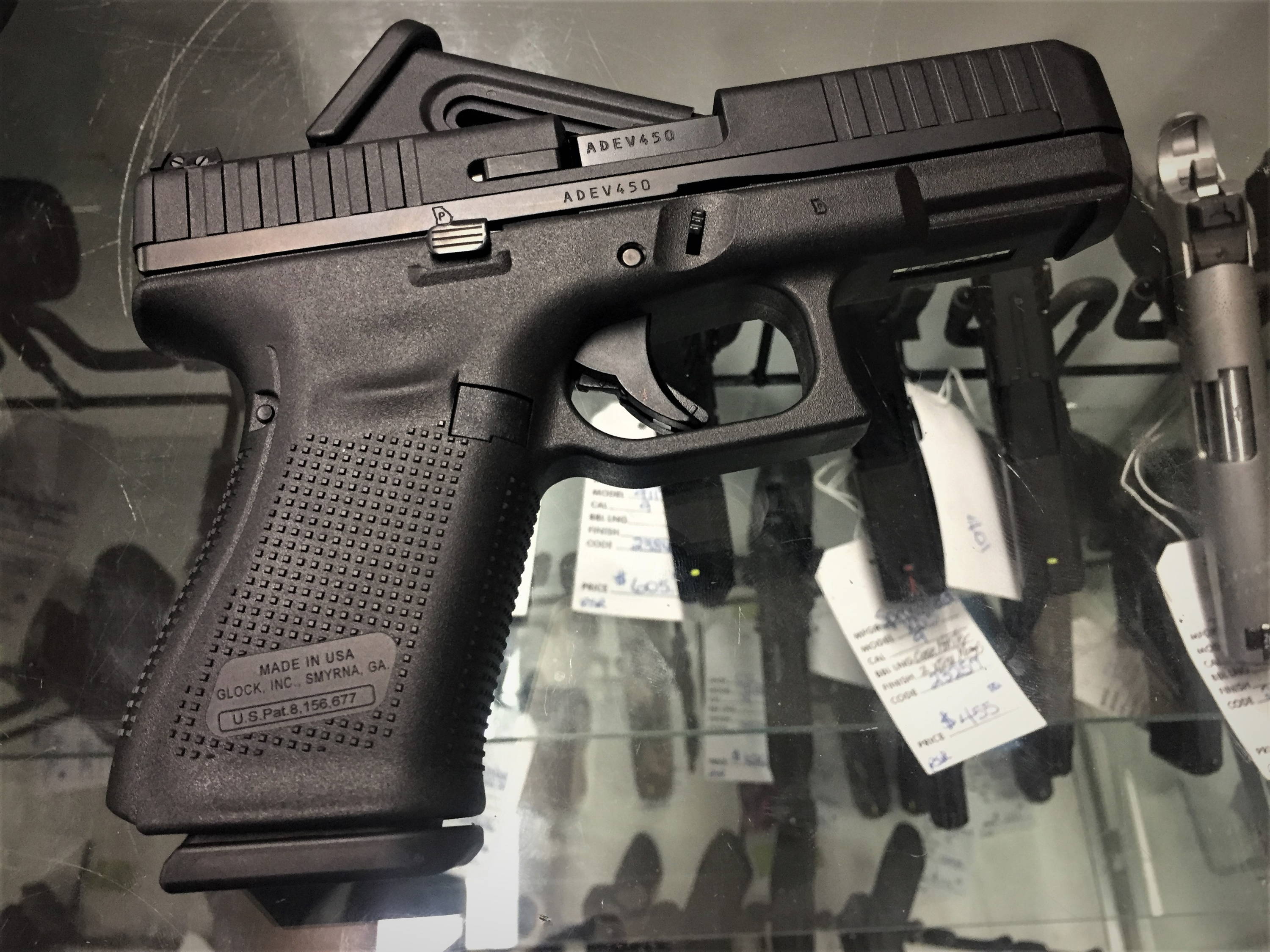 Glock 44
Barrel Length:  4.02 inches
Weight, with Empty Magazine: 14.64 ounces
Overall Length: 7.28 inches
Overall Height, Including Magazine: 5.04 inches
Overall Width:  1.26 inches
---
Eve Flanigan is a defensive shooting and concealed carry instructor living in the American Southwest. Today she works full time as an instructor and writer in the gun industry. Flanigan loves helping new and old shooters alike to develop the skills needed to keep themselves and their loved ones safe.