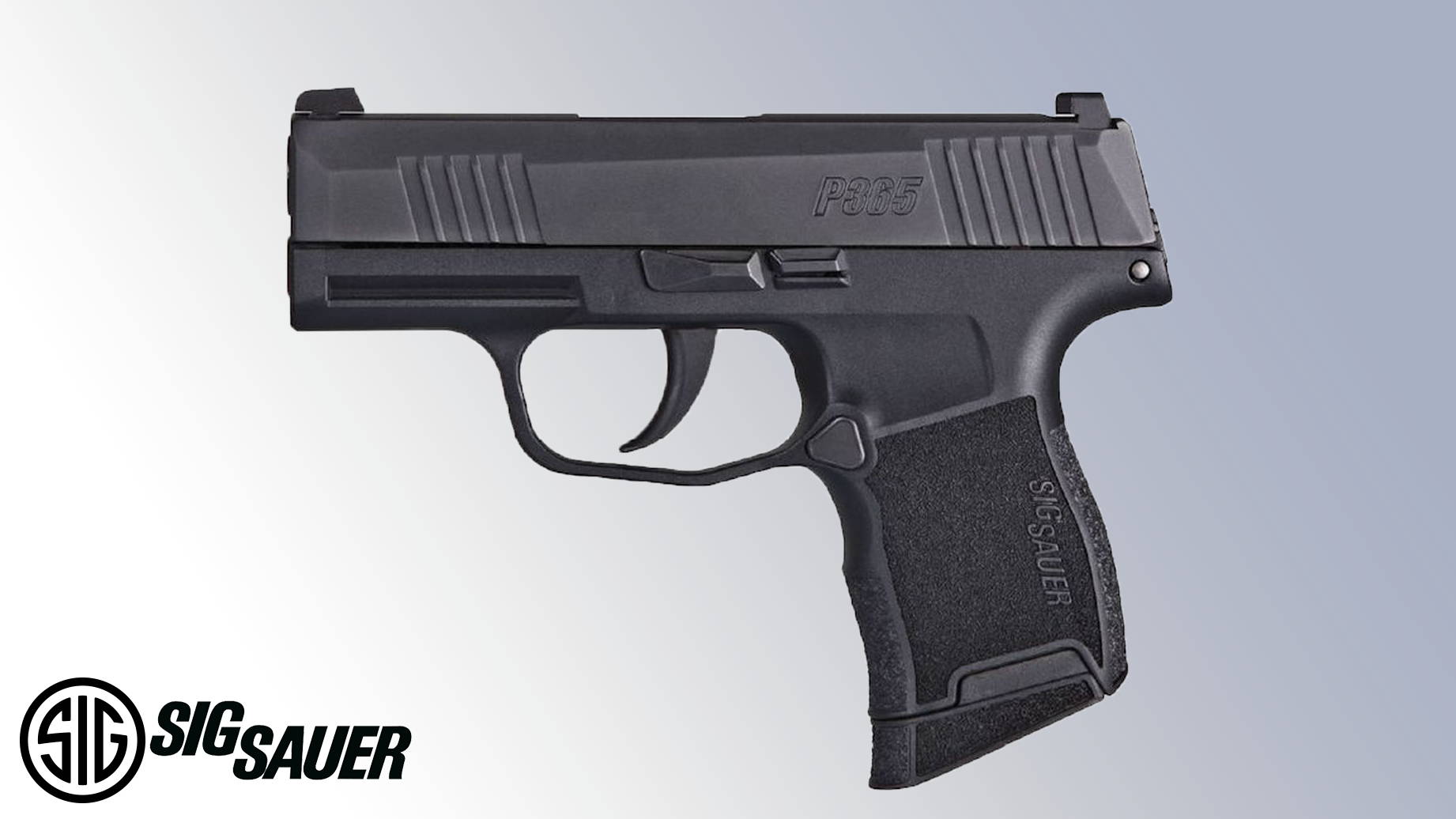 Sig Sauer P365: The Holy Grail of concealed carry pistols?
They say a concealed carry weapon is like a travel toothbrush. You carry it because it's small. It works, but if you had the choice, you would use your regular sized toothbrush. While you usually do need to compromise on a few factors in exchange for portability and conceal-ability, there are no compromises when it comes to the ultra-compact Sig Sauer P365. In fact, this diminutive 12+1 round capacity striker-fired 9mm turned the CCW market on its head when it was first launched at the 2018 Shooting, Hunting, and Outdoor Trades (SHOT) show.
The subcompact P365 is impressive enough to compete with the S&W Shield or Glock 43, but it outperforms competitors in overall dimensions while carrying a bigger payload. While sometimes you prefer a bigger CCW like the Glock 17, the Sig P365 isn't a tiny version of the gun you would rather use, it's the gun you want with you. Because this powerful pistol boasts conceal-ability, features you would usually find in larger handguns, and remarkably few downsides, it has been dubbed the "Holy Grail" of concealed carry pistols. But is it really?
The P365 had a bit of a rocky start with a few glitches being reported. However, Sig Sauer was very quick to make changes to the design, production methods, and quality controls to fix these. Since then, it has remained a much loved compact handgun because this little gun has pretty big features. These are the top reasons we love the Sig P365 as a CCW.
---
1. Size
Whoever said that size matters has obviously never fired a P365. Measuring one inch wide by 5.8-inches long and 4.3-inches tall, its compact size makes it an ideal candidate for CCW. But get this - it doesn't force you to take a one-finger grip or compromise like you usually would with a gun this size. At a weight of 17.8 ounces unloaded and 23.6 ounces fully loaded, it's great for a holster sewn to the underside of an outside vest cover or even for ankle carry.
2. Capacity
The Sig P365 doesn't just offer more conceal-ability, it also offers more capacity. One of its more notable features is that it manages to fit 10 rounds of 9mm into the kind of dimensions that would usually only manage something like a 6-7 round magazine. The magazine stacks cartridges in an offset manner, so it's different from a single stack, but it doesn't really count as double stack either. While they manufacture this gun with a 10-round standard magazine, you also have the option of a 12-round extended magazine. So ultimately, the Sig's ability to carry 12+1 or 10+ sets it apart from the rest.
3. Trigger quality
Endless CCW enthusiasts rave about this handgun's trigger quality. A light, smooth and short trigger with a positive reset and trigger weight in the five-pound range is certainly another noteworthy feature. Because of this, the gun shoots flat and doesn't move around under recoil. And, with a lack of any considerable muzzle flip, follow-up shots are fast and seamless. As a double-action pistol, a single pull of the trigger both cocks the firing pin and releases it on a round in the chamber. However, because there's no safety lever on the trigger face, you should always carry the Sig Sauer P365 in a holster that covers the trigger area.
4. Durability
This subcompact handgun has a textured polymer grip and a stainless steel slide that is finished with what Sig Sauer calls Nitron - a hardened finish that resists rust and wear. So it is extremely reliable and has an extended life as well. It also runs every type of steel and brass-cased factory ammunition with no malfunctions.
5. Performance
The striker-fired mechanism means it does not have an external hammer than can catch on clothing. As a result, the Sig P365 can quickly move from a concealed carry position into action without snags or having to chamber a round. Additionally, with the absence of a premature slide-locking, there's no tripping of the slide lock level if you accidentally brush a finger against it.
So many refer to this handgun as the Holy Grail for concealed carry perhaps because of the way it shoots. The magazine starts as a near-double column at the base and tapers to a single column tube. With the base of the frame starting at about an inch wide and tapering at the neck, the grip follows the same profile. This grip profile combined with strategically placed recesses on the sides that give way to the trigger and magazine button enables the Sig P365 to shoot like a gun several times its size, such as the Glock 19.
---
Final thoughts
The Sig Sauer P365 is an excellent CCW weapon for self-defense and, because of its compact size and concealability, also makes a great backup weapon. With greater magazine capacity and barrel length than other handguns of the same size, it's also an excellent choice for shooters who carry guns on a daily basis. Actually, that's what the 365 refers to - it's a great pistol to carry year-round.
This tiny gun combines ammunition capacity, caliber, and strength without compromising. This powerful and effective combination is unparalleled by others in the category and will probably remain so for a long time.
---
Rene Aguirre is the founder and owner of Bravo Concealment. Rene has been carrying concealed on a daily basis for over 8 years and has been a CHL (concealed handgun license) holder for more than 20 years. Finding a high interest in firearms for many years, Rene started Bravo because of the "lack of" a good concealed carry holster.