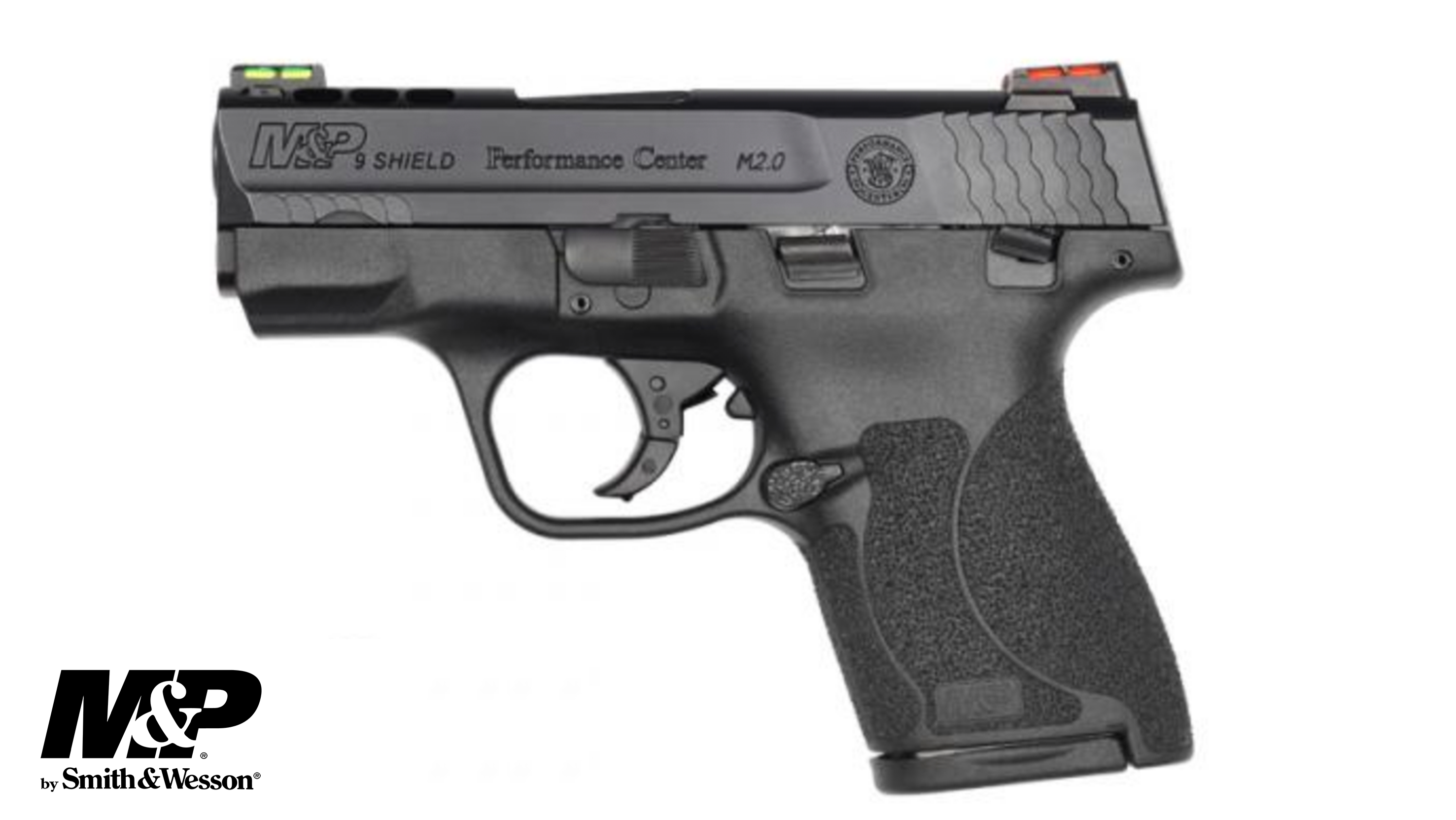 Everything you need to know about the Smith and Wesson M&P Shield 2.0 (performance center)
Smith and Wesson are generally good at making guns that are a step above the average model and the Military and Police (M&P) Shield 2.0 is no exception. At 6.1 inches long with a 3.1-inch barrel, this subcompact single-stack model has been designed with concealed carry in mind. However, don't let its dimensions fool you, because this little gun packs all the features of a full-size pistol into a convenient and concealable size. Because it provides better performance than most in this category, it comes as no surprise that the M&P Shield 2.0 is a popular choice not only among police, but also among CCW civilians.
As the upgraded version of the original M&P Shield, the 2.0 boasts a lightweight polymer frame, an embedded steel chassis that encases the trigger group, as well as a stainless steel barrel and frame with a black Armornite finish that protects against rust and corrosion. Unlike most full-size 9mm handguns that pack fifteen rounds or more in a double stack column, the M&P Shield 2.0 uses a single column magazine that allows it to have a width of only .99 inches, making it thin and comfortable enough to carry all day.
It also boasts unique sights, but we'll touch on that a little later. Ultimately, the features of this handgun and the wide variety of choice in terms of everything from ergonomics to aiming devices shows that Smith & Wesson pays attention to what their users want and need. Here's the complete breakdown of everything that makes the M&P Shield 2.0 the kind of gun that has your back without breaking it.
---
Performance
Despite its size, the M&P Shield 2.0 is eminently shootable. The capacity is as good as you can expect, the controls are well-designed, and a variety of features enhance its overall performance.
---
● Grip

  The M&P Shield 2.0 has an aggressive grip texture for enhanced control, but it doesn't dig into your hands like the texture on grips by other manufacturers. This makes it easy to maintain a good grip when firing many rounds and subtly mitigates the need for stippling. Because of the 7-round single stack magazine, it's a lot smaller in size and offers a happy medium between a compact and subcompact.

  Smith & Wesson strategically use design elements to optimize your shooting. With an 18-degree grip angle, natural point of aim comes easy and you can present on target without a lot of hassle. The ergonomic design and size of the grip also allows you to get to the controls with your thumb without letting your grip slide.

 
● Trigger

  Probably one of the best improved features of the new M&P 2.0 is the crisp trigger with lighter trigger pull. But not only is the trigger pull smooth and short, it also has a tactile and audible trigger reset. The trigger is flat on your finger with rounded edges for a more comfortable feel.

  Smith & Wesson use a different kind of trigger safety by separating the trigger into two sections, one at the top and one at the bottom. Pulling the trigger too high will not fire the gun. So with the safety on the front of the trigger, you depress the safety as you pull the trigger. However, if this isn't your style, there's a range of compatible M&P Shield alternative trigger options available.

 

● Accuracy

  Have we mentioned how the overall ergonomics and design of the M&P Shield 2.0 create better accuracy? Firstly, on the Performance Center model, the slide and barrel are ported for better performance and less muzzle rise when firing. Secondly, the textured grip molds into your hand, so you have a positive grip when pulling it out of the holster and can shoot faster, but remain accurate. Thirdly, the short and fast reset makes it quick to get the next shot out without compromising on accuracy.

  In addition to all this, the grip angle mentioned above is comfortable in recoil and points naturally, so it's generally easier to reacquire your target. However, the area where the M&P Shield 2.0 really shines is when it's put under speed. It is an excellent choice if you need to defend yourself and break contact at close range and you're able to shoot rapid rounds with an acceptable level of accuracy. However, it has to be noted that this pistol ● ● ● becomes less accurate at greater distances.

 

● Reliability

  Smith & Wesson manufactures some of the most reliable handguns on the market and are toe-to-toe with the likes of Glock. This is why none of the upgrades made to the original M&P Shield to create the 2.0 version were done to improve reliability, which is pretty reassuring. In any case, the M&P Shield 2.0 has undergone rapid testing of 1,000 rounds with no malfunctions.

  Some people have also tested it with the least expensive ammo and still don't experience malfunctions. Additionally, the steel chassis inside the polymer frame is longer, so it creates a more rigid lockup between the slide and barrel, which increases not just the reliability, but also the accuracy.

 
● Sights

  As all the sights on serious duty pistols should be, the standard sights on the M&P Shield 2.0 are steel with three white dots. These no-snag, Novac style sights are of high quality and are designed to be low profile, unlike so many other 9mm weapons that have plastic sights.

  It also has "HI-VIZ" factory night sights for added visibility in low light situations. But in addition to these iron sights, Smith & Wesson offer a wide variety of aiming systems. The Shield 2.0 is available with tritium night sights, HI-VIZ fiber optic sights, integrated Crimson Trace red laser aiming devices, as well as integrated flashlights. You can even get it with a cut frame and integrated four-minute angle red dot sight on the 4" barrel series.
● Reassemble

  The M&P Shield 2.0 has a patented take-down lever and sear deactivation system that lets you disassemble without having to pull the trigger, unlike other striker-fired pistols. This adds an extra measure of safety to the takedown process. When other models in this category get dirty or grime, they can jam and it can be difficult to disassemble them. However, the Shield 2.0 levers are superior mechanisms to break down with full-length steel recoil spring guide rods and a good grip.

 
 

● Looks

  The ported slide of the M&P Shield 2.0 gives it a great appearance. The textured grip represents a skateboard surface without being too much and it also has stylish scalloped serrations at the front of the slide. This is only on the wide part of the slide where it meets the frame, so it doesn't become bothersome. Essentially this small and concealable pistol looks exactly like a full size M&P and acts like one too.

 

● Safety

  Some may dismiss the M&P Shield 2.0 on account of not having a safety, however, both of these models have safeties. Smith & Wesson just give you the option to choose whether you want a thumb safety or not. The slide safety and manual safety are both single-sided to maintain the slim frame of the firearm and there's also a sear block drop and trigger lever.

  You're able to disable the safety without removing the entire mechanism, but it's crucial to avoid removing an internal part and reinstalling the lever. Basically you have an option of which safety is best for you, but regardless of that, manual safeties are still just mechanical devices that can fail. It's always best to follow best practices by keeping your finger off the trigger until your sights are on the target and you're ready to shoot.

 

● Concealability

  As it was designed for the purpose of CCW, the Shield 2.0 is genuinely suitable for this purpose. With ¼ of an inch less grip width, it fits easily into a waistband holster and is extremely lightweight and comfortable to carry all day. If you're using the extended magazine it will become a little longer and may make it a bit less easier to conceal, but it will only be slightly if at all with the right holster. However, the extended magazine makes for a great backup.
---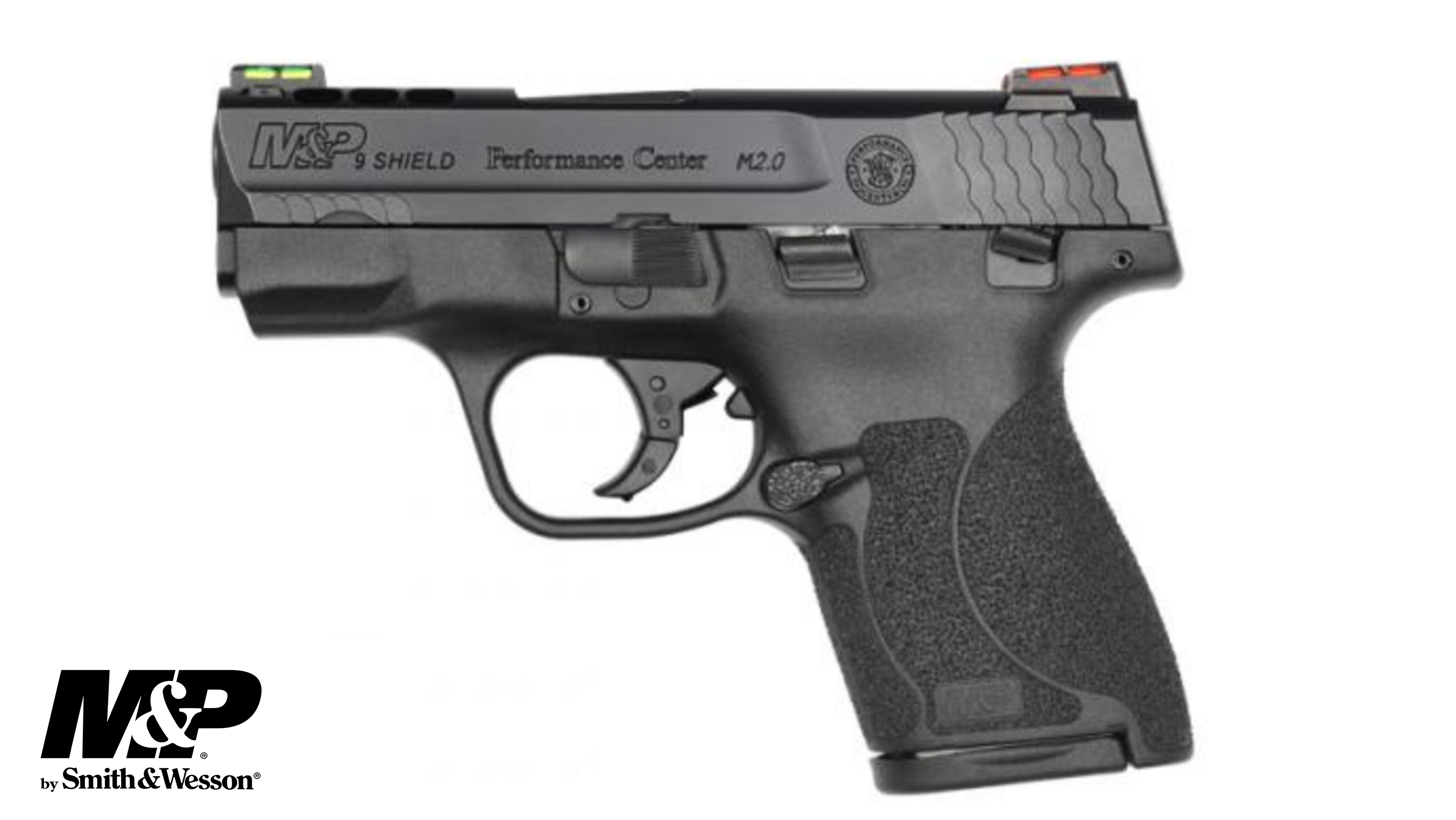 S&W M&P Shield 9/40
Height: 4.5" with flush magazine, 5" extended magazine
Weight: 18.3 ounces with empty magazine
Capacity: 7+1, 8+1 (extended magazine)
Front Sight: Steel - White Dot
Rear Sight: Steel - White Two-Dot
Safety: Available without or with thumb lever
Purpose: Concealed Carry, Personal Protection
Ammo
The M&P Shield 2.0 comes with two magazines, a flush magazine that holds 7 rounds and an extended 8-round magazine. While the 8-round mag does provide an additional round, it also gives a fuller grip if you're someone with bigger hands. We consider this pretty decent capacity for a single-stack subcompact 9mm. And it's thanks to this single column magazine that we're able to have the narrow frame. But if you do prefer something else, the pistol is also available in .40 Smith & Wesson and .45 ACP versions that hold six and seven rounds in similar magazines.
---
Customization
Yet another great thing about Smith & Wesson is that they accommodate so many different customizations for every kind of shooter. Whether it's caliber, aiming devices, or ergonomics, the M&P Shield 2.0 is available in a broad range of customizations that give you the chance to pick the best version for your preferences.
There are M&Ps with different sights, flat-dark-earth (FDE) finishes, manual thumb safeties or no safety, integrated crimson trace lasers and even a "Carry and Range Kit" with two magazines, holster and double magazine pouch. So no matter what kind of configuration you're booking for, you're almost guaranteed that Smith & Wesson has it for you.
---
Holster
The M&P Shield 2.0 is easy to conceal carry every day, so you should make sure you choose the kind of holster that's equal to it. You'll need a holster that has a custom fit and customizable retention so that you never have to worry about retaining your gun. The Shield 2.0 can be carried in a variety of conceal carry positions, with the most popular being IWB. As such, there are endless holsters available to you. That being said, because it's so compact and lightweight, it's really convenient for lots of different CCW positions.
---
Rene Aguirre is the founder and owner of Bravo Concealment. Rene has been carrying concealed on a daily basis for over 8 years and has been a CHL (concealed handgun license) holder for more than 20 years. Finding a high interest in firearms for many years, Rene started Bravo because of the "lack of" a good concealed carry holster.