Sig Sauer P320 Carry vs Compact: Which is better?
Known for their double action and single action hammer fired pistols, Sig Sauer is widely regarded as the gold standard for semi-auto handguns. Glock, on the other hand, is considered the alpha in the compact carry category. However, Sig Sauer's entry into the striker fired market with the P320 quickly catapulted them from semi-autos to a huge selection of striker-fired handguns for every kind of shooter. This was a welcome change in a stagnant market and offered gun enthusiasts an effective alternative option to Glock pistols.
The P320 X-Carry and P320 X-Compact are part of Sig Sauer's elite X Series. The guns in this series share the same fire control unit as well as a wide variety of upgrades that enhance accuracy, ergonomics, and overall performance. Essentially, the X series boasts more premium weapons than the P320 series. With the arrival of the P320 X-Carry, the old Carry was rebranded as the P320 X-Compact, causing some confusion among gun enthusiasts. But the biggest question is not about the name change, it's about how these two models differ from each other. 
As both are purpose-made CCW pistols, the X-Carry seems all but identical to the X-Compact model. Interestingly enough, the 17-round magazine for the X-Carry model and 15-rounder for the X-Compact result in a grip difference of only 2/10". The P320 X-Carry and P320 X-Compact both combine concealability with full-size X Series features. But how do these two models stack up against each other and what are the major differences?
---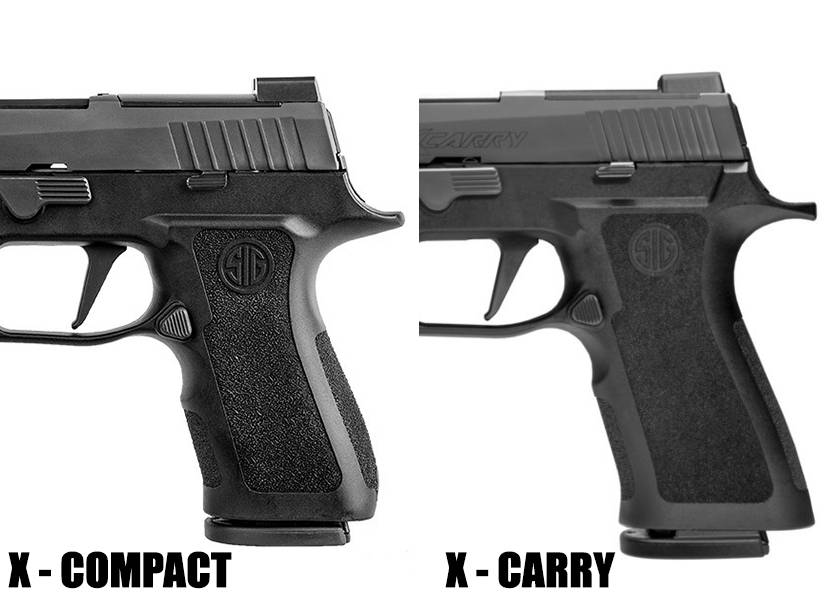 Grip

- Perhaps the biggest difference between the X-Compact and the X-Carry are the grip modules themselves. While the width is more or less the same, Sig has made changes to the X-Compact to offer a marginally shorter grip length from front to back. This recontoured grip handle minimizes the gap between your thumb and allows for a better grip. The X-Carry has a rather substantial grip and is more rounded on the sides than most grips. As a result, it may feel a little fat in your hands.

- The redesigned grip on the X-Compact has an improved beavertail, fastback profile, contoured magwell, and a deep trigger guard. Where most single-stacks are about 1.1 inches thick, the X-Compact is 1.3 inches, allowing more capacity. The undercut under the trigger guard is placed high enough to give you an excellent high grip. The beavertail on top of the grip ensures your high grip doesn't fall prey to a slide bite and gives you better control of the gun. This grip combo is called the X Series grip and is designed to make firing the gun more comfortable and help fight muzzle flip. The X-Compact also has front and rear slide serrations that are curved rearward - and while this isn't comfortable, it's practical and makes the slide very easy to grip with gloves or wet hands.

- The great thing is that if you don't like the grip size, you can just change the frame for a larger or smaller one due to the modular chassis.
 

Trigger

 

- The P320 trigger has received great reviews for having one of the best triggers available on a polymer, striker-fired pistol. The flat X Series trigger reduces the reach from grip to trigger, meaning it's great for shooters with smaller hands. It also breaks at precisely 90 degrees and the slide is easy to rack forward.

- This flat trigger design also makes it incredibly comfortable to shoot high volume with nothing that agitates, annoys or chaffs your hands after a few thousand rounds. Most shooters also enjoy the absence of external trigger safety because it is more comfortable on your finger pad.

 

Accuracy


- Both the X-Compact and the X-Carry are suited to close-range shooting, but can also exceed expectations at long range. This is partially due to the strategic combination of bright and clear sights with the flat trigger and excellent grip. While the P320 has a slight muzzle flip, this is counteracted by the beavertail grip. Even at 50 yards away, the Sig Carry and Compact will hit the target effectively.


 

- When Shooting one of these two models, you'll experience a smooth and consistent trigger pull with mild recoil and a short reset - albeit a reset with a thump sound. Nonetheless, the Sig P320 X-Compact and X-Carry are both highly accurate weapons and will not let you down.

 

Reliability


- Although the P320 models are striker-fired guns, they are configured like a hammer-fired pistol. Features like the beavertail and high bore axis actually work in favor of its overall reliability. On top of that, the construction of the P320 is extremely corrosion-resistant. Both models boast the signature Sig Nitron finish over a stainless steel slide - essentially combining two powerful ways of rust prevention. Naturally, this was one of the more attractive features during military trials and could explain why the Sig Sauer P320 MHS variant won the US military's Modular Handgun System trials.

 

Sights


- The quality of sights on both the X-Compact model and the X-Carry model are partially what makes it so accurate. These iron sights are in the standard 3-dot configuration with a bright green ring that is easy to see and pickup quickly. With tritium bulbs that glow brightly as the sun sets or the lighting gets low, the rear sights help you find your aim in poor lighting.

- The X-Compact's combination of X-RAY3 day/night sights as well as night sight rear plate makes it easy to pick up when transitioning between targets. Another great thing is that the P320 pushes the front and rear sights as far as possible, ultimately giving you a wide sight radius. And with more sight radius comes more accuracy.

 

Reassembly


- Generally, the Sig P320 boasts easy and safe disassembly due to its modular build. The X-Carry model allows disassembly via rotation of the takedown lever, so there's no need for additional tools or trigger manipulation. Of course, this also acts as an extra safety precaution. The X-Compact doesn't differ from the X-Carry on this front and also has an intuitive 3-point takedown as well as a low profile slide catch.

- Another great thing about Sig Sauer is the top notch parts fitment. All the component parts work together perfectly, such as the magazine release gliding in and out of the gun, the loose slide lock that moves seamlessly and glides rearward as if it's on ball bearings. You can also remove the chassis from the grip module in seconds, but we'll touch on that again later.

 

Looks


- The P320 X-Carry is made from polymer and has front and rear slide serrations that are aligned with the vertical grip for press checking. The P320 X-Compact also consists of polymer with aggressive styling and, of course, the stylish Sig logo. Both models have a matte black Nitron coating evenly applied across the slide of the gun and creating a very slick look.

- Adding to the overall stylish design is the fact that everything from the sights, the top plate, and the rest of the gun are the exact same color and matches instead of incorporating different shades of black. The external controls are quite well-positioned and the frame's picatinny rail allows for a flashlight or laser.

 

Safety

- As is standard with the average carry gun, neither model has an external safety or other excessive external controls that could get in the way. Instead, the P320 XCarry and P320 X-Compact both include an internal striker safety and internal disconnect safety, so these two models are evenly matched in this area.

Concealability

 
- Seeing as both the X-Carry and X-Compact were made specifically for the purpose of carry, they give the best concealability one can expect. But there's a reason the old Sig Carry was rebranded as the Compact. With an overall length of 6.7 inches and height of 5.5 inches, the X-Compact is marginally shorter than the X-Carry's length of 7/2 inches and height of 5.5 inches.

- As such, the X-Carry can be used as a CCW, but it will not be as concealable as the X-Compact model. It should also be noted that at a width of 1.4 inches, this is not a particularly slim carry gun, so you might need a jacket or coat to prevent printing.
---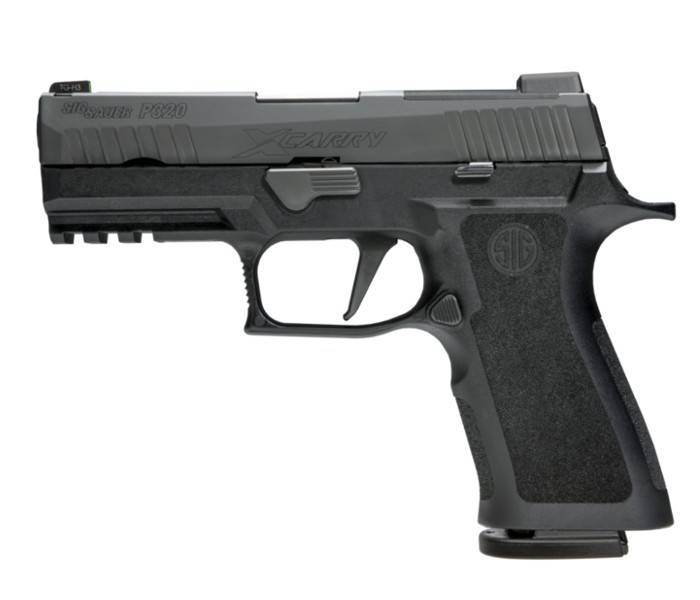 Sig P320 X-Carry
Capacity: 17+1 (9mm Luger)
Sights: SIGITE Night Sight or Contrast Sights
Safety: Internal striker and disconnect safety
Grip: Polymer Grip Module
Frame Material: Stainless Steel
Purpose: Concealed Carry, Personal Protection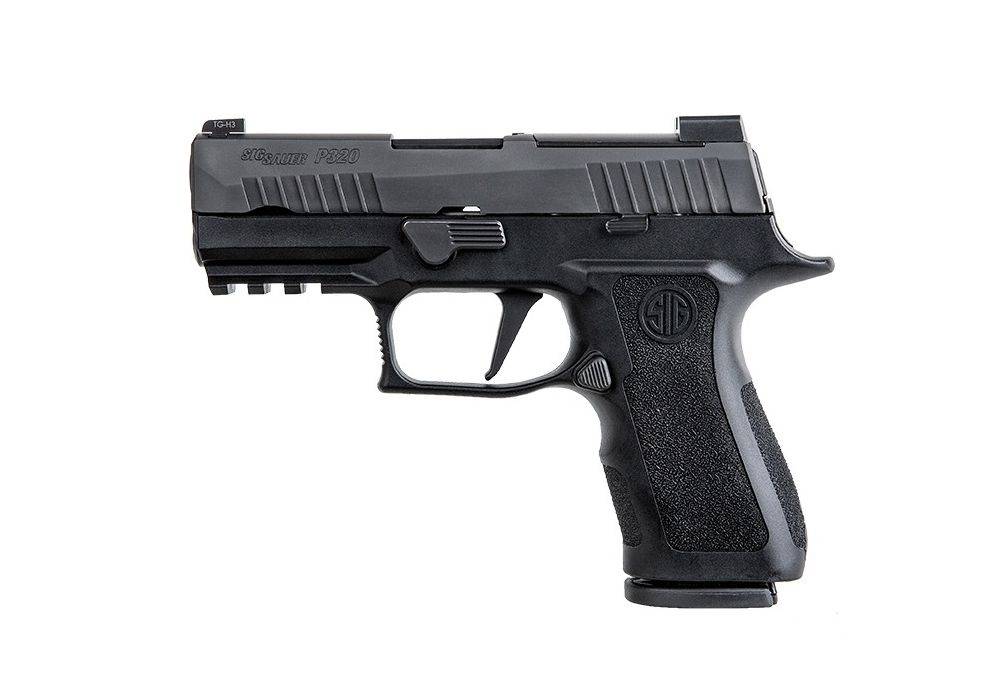 Sig P320 X-Compact
Capacity: 15+1 (9mm Luger)
Sights: SIGITE Night Sight or Contrast Sights
Safety: Internal striker and disconnect safety
Grip: Polymer Grip Module
Frame Material: Stainless Steel
Purpose: Concealed Carry, Personal Protection
---
Ammo
First off, both P320 models are only available in 9mm, but this doesn't mean you can't shoot other calibers. In fact, the P320 series can be customized and converted to many different calibers. However, 9mm is generally regarded as the perfect round for guns because it is easy to shoot, easy to obtain, and affordable.
The magazines on these models are made of steel with a polymer base plate and they drop free when ejected. But, unlike some steel mags, they're not incredibly abrasive on your thumb when charging rounds. Magazines are interchangeable between the P320 and the P250 and you're also able to use the 17 and 21 round magazines in the XCompact model. The bottom of the grip also has a cutout for better purchase on the magazine base plate which helps to prevent malfunctions if the mag sticks.
Customization
Another great thing about the Sig Sauer P320 XCompact and X-Carry models is that they are modular and can be inexpensively reconfigured the way you like it. Both models have a removable chassis known as the fire control unit (FCU) - this is the very essence of the actual firearm and you can move it from gun to gun. 
It's because of this that you can also easily customize your P320. You can change out frames for grip size, color, model size, and even chambering without changing (serialized) guns. There are frames in black, flat dark earth, and OD green, and they're available in small, medium and large sizes. But because of the mild frame texture, you might want to consider stippling your grip.
Holster
While both these P320 models are made for CCW, the X-Compact is best suited for daily carry - all you need to be comfortable is the right holster and a good belt. With a relatively short slide length, the Compact works best in standard IWB carry positions like 3-5 o'clock or appendix position.
Reviews
Here's what some gun owners have to say about the P320 X-Carry and X-Compact:
- "The X-Carry is unbelievably reliable and accurate. 1000 rounds of reloads later, and still no malfunctions."

- "Without a doubt one of the finest firearms released by Sig. It's a modern fighting gun with great performance."

- "Sig nailed this one - I can definitely see the hype. The P320 X-Compact is a sweet shooter that's small and light enough to CCW without issues."

- "It feels great in my hand and shoots like a dream. My thumb sits well below the slide stop and it has never been a problem for me on any of the Sig Sauer handguns."
---
Rene Aguirre is the founder and owner of Bravo Concealment. Rene has been carrying concealed on a daily basis for over 8 years and has been a CHL (concealed handgun license) holder for more than 20 years. Finding a high interest in firearms for many years, Rene started Bravo because of the "lack of" a good concealed carry holster.