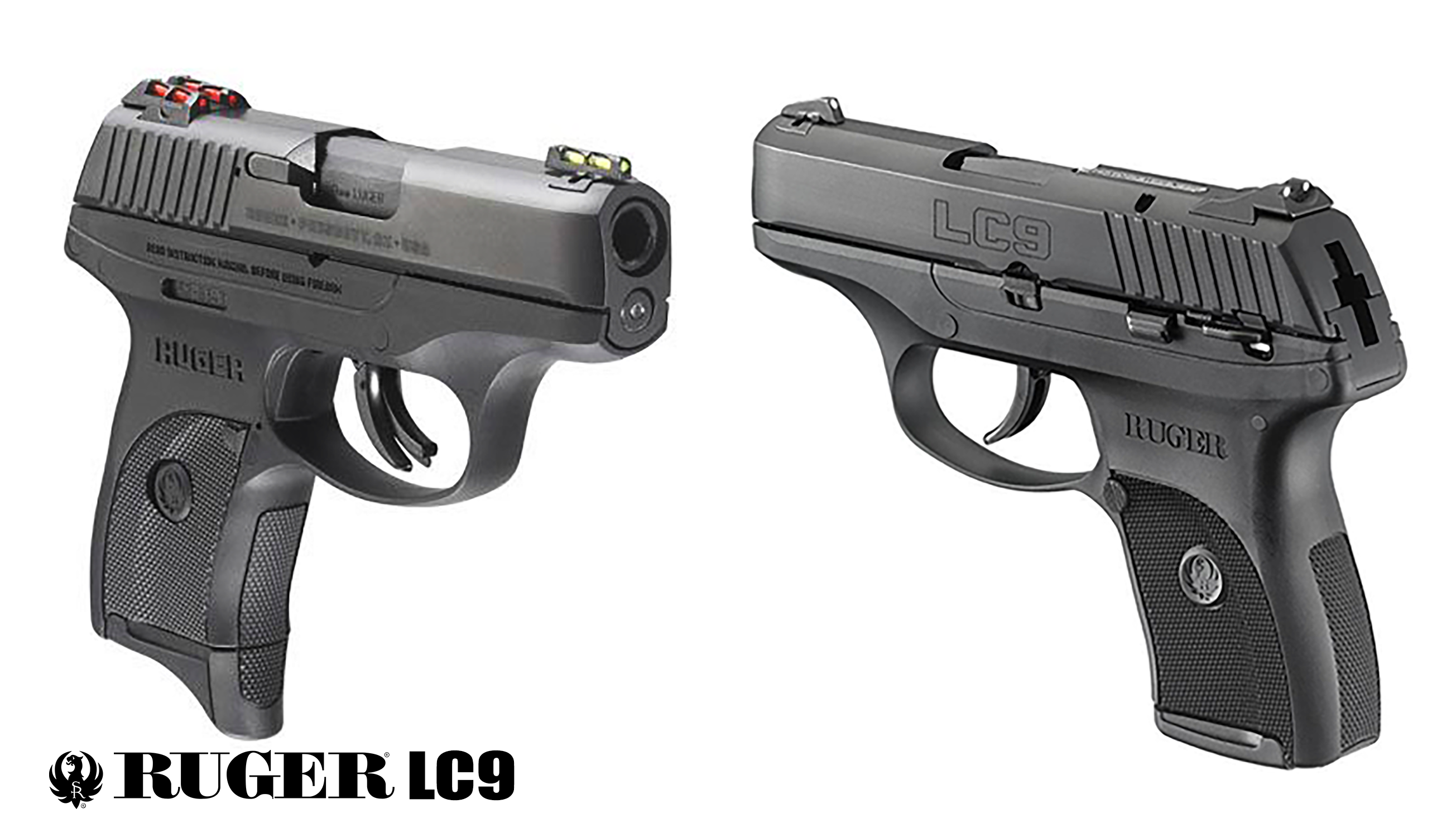 Ruger LC9 9mm: Everything You Need to Know
If you're the kind of person who likes the idea of James Bond's excellent deep concealment within a form-fitting tux, odds are you'll like the compact Ruger LC9. The Lightweight Compact 9mm (LC9) is the little brother to the Ruger Lightweight Compact Pistol (LCP). The LCP weighed 9.5 ounces unloaded and had one key flaw, it was chambered for the .380 ACP cartridge. In response to this, the Arizona gunmaker developed the LC9 as a way to accommodate the bigger, faster Luger 9mm.
It is a lightweight and ultra-slim concealable single stack 9mm that works well as a home defense weapon, a CCW, or a backup weapon. With an overall length of 6 inches with a height of 4.5, it is among the narrowest semi-autos available. Compared to the Glock 43's (link to previous blog) width of 1.06 inches, the Ruger LC9 has a width of an impressive 9/10ths of an inch.
This striker-fired polymer frame pistol cuts weight from areas of the pistol that aren't stressed during firing and reinforces stressed areas with steel. Ultimately, this deadly little gun is the perfect deep conceal weapon and can even be pocket carried. With impressive size and performance, it makes sense that the Ruger LC9 was voted Handgun of the Year in 2011. Here's a complete breakdown of how this little guy performs.
---
1. Grip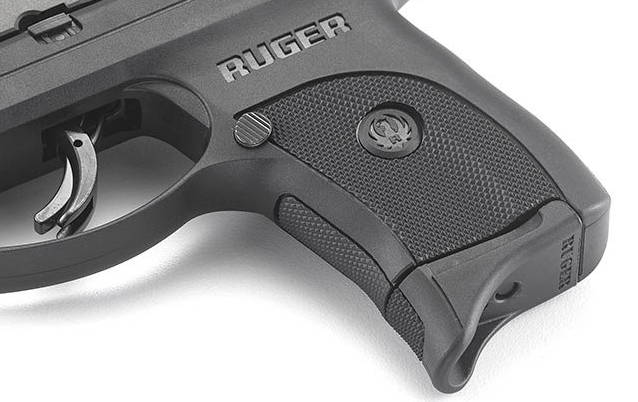 Because this firearm was designed with conceal carry in mind, the grip isn't too long and doesn't present concealment issues. Because it is so narrow, it's probably better suited to shooters with smaller hands. However, thanks to the base plate's grip extension, it's easy to get a hold of the gun and it can still accommodate your pinky. You can always have a finger grip extension floorplate added to the magazine for comfort.
The Ruger LC9 has a checkered grip frame that helps secure your grip, but you'll need a steady hand and proper stance to keep her nose down for follow-up shots. The bore axis is approximately ¼ inch higher than the Glock 43, so while there's a little more muzzle flip than there should be, it's not particularly hard to control. All of the controls are located on the left, so it's ideal for right-handed shooters.
---
2. Trigger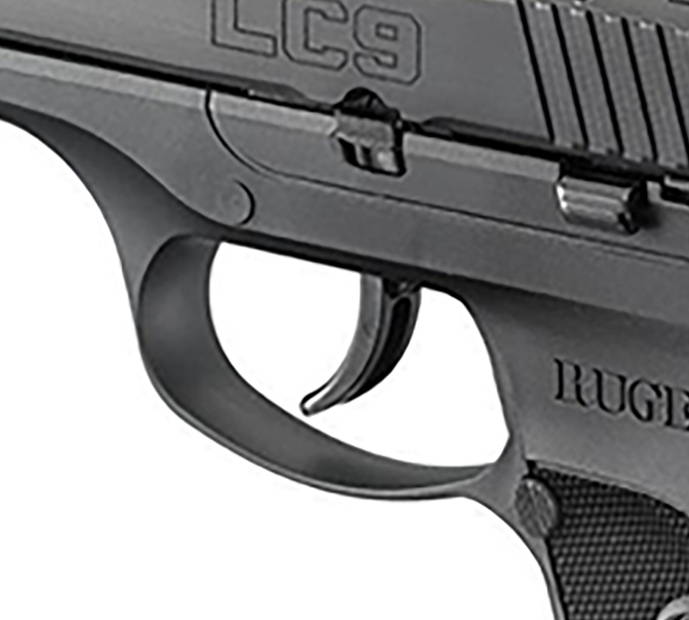 The striker-fired Ruger LC9 has a short and crisp trigger pull for faster and more accurate shooting. The trigger action is of excellent quality with a smooth take up, clear wall and smooth break. However, the trigger press can be long and the reset as well. That set aside, shooters generally enjoy the trigger on the LC9.
---
3. Accuracy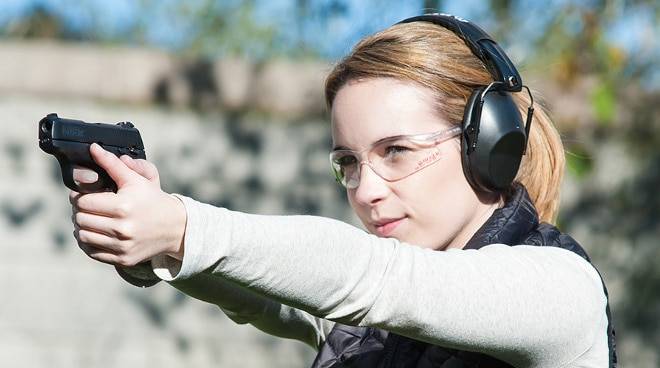 With a short barrel and small frame, the Ruger LC9 is perfect for close range encounters. It's 4.0-grain load clocks right at 905 f.p.s with the 4.8-grain load faster and results in zero leading and an accurate shooting experience. The LC9 combines the striker-fired 5-pound trigger pull with the drift-adjustable rear sights to give you enough accuracy to stop a threat.
While there might be a slightly snappy recoil, the LC9 will land where you aim it and will perform best at average defensive shooting distances.
---
4. Reliability
When it comes to the Ruger LC9, reliability isn't an issue. In testing it handled 500 rounds of a variety of ammo, including Independence, Fiocchi, Hornaday, Wilson Combat and Blazer. Of course, it is specifically tailored for Luger 9mm rounds and close encounters, not medium range. Despite that, if you have to pull this little guy from within deep beneath your James Bond tux, it will not let you down. Because of its polished feed ramp, it takes any ammo you feed it with ease.
---
5. Sights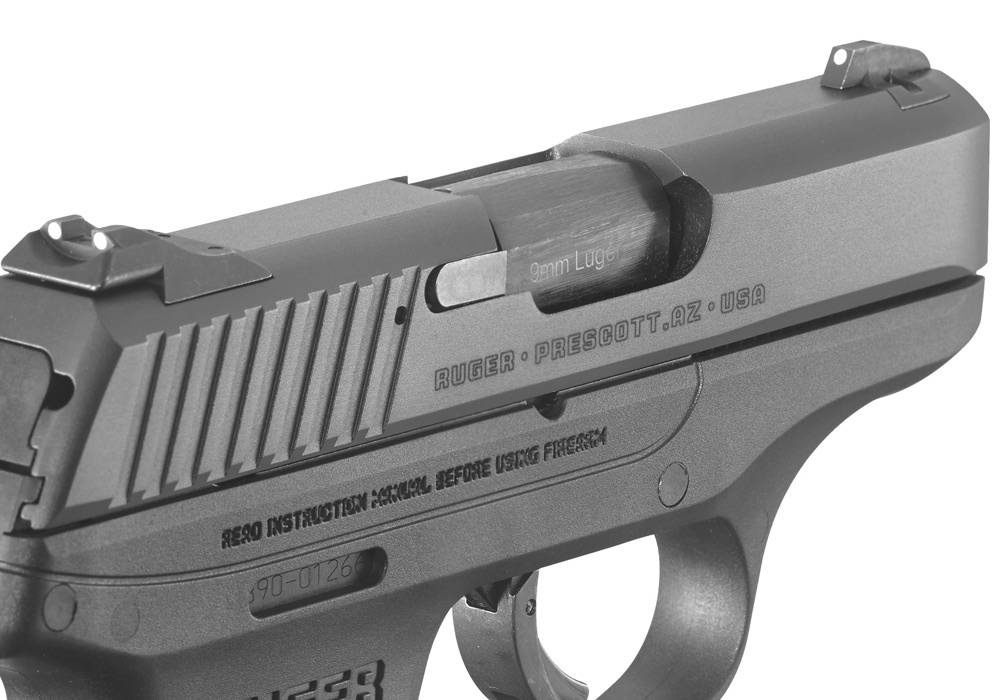 The Ruger LC9 is a very smooth and sleek-looking pistol and one of the features that contribute to this overall stylish look are the 3-dot sights. These are dovetailed for optimal visibility with a drift-adjustable rear sight and fixed front sight. The sights strike the perfect balance between high visibility for fast acquisition and low-profile design for snag-free deep conceal.
If for some reason you don't like these sights, there are endless laser and high viz options available to customize your LC9.
---
6. Reassembly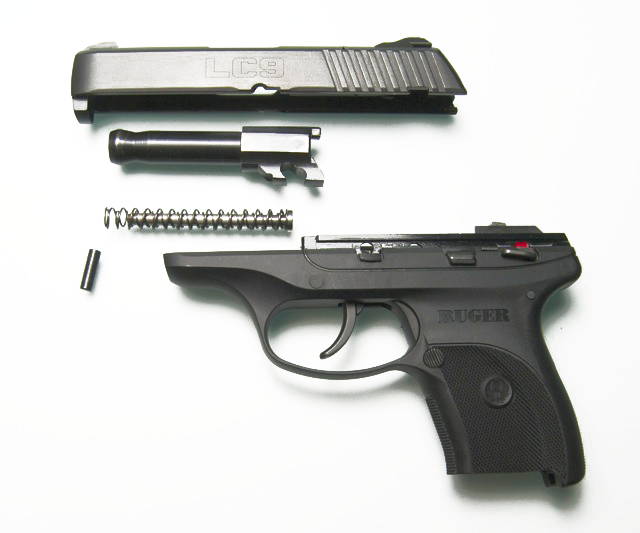 Because of the magazine disconnect, you'll find that disassembly and reassembly of the Ruger LC9 to be different than most others in this category. Start by removing the standard magazine and making sure the chamber is empty, then insert the inert magazine so that you will be able to pull the trigger when ready.
After that, you remove the inert magazine, and push down the takedown plate with a finger or tool to expose the takedown pin. You can push out the takedown pin by pushing the slide back an eighth of an inch and using a paperclip or punch. Move the slide forward and off, remove the recoil spring assembly and barrel. It sounds like a lengthy process, but it's easy to learn and only takes about a minute.
---
7. Looks
Boasting incredibly smooth lines, a well-finished slide with serrations on the rear, and a glass-filled nylon polymer frame, the Ruger LC9 has been hailed as a slim and sophisticated CCW option. The grip sports checkered panels and it also has a hardened alloy steel slide. While the overall profile is thin and ergonomic, it's still big enough to be fun to shoot at the range.
The sculpted nose and elongated trigger guard shows Ruger's focused attention to detail. Most models are black and that's always a classic, but you also have the option of getting your LC9 in a range of bold and funky colors.
---
8. Safety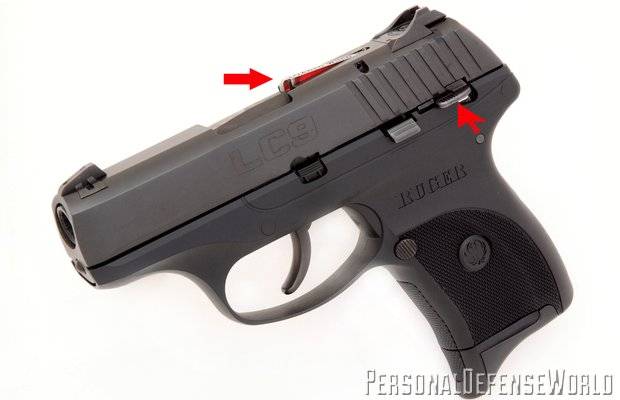 Ruger introduced not one, not two, but three safety mechanisms to the LC9. It has an integrated trigger safety that prevents the gun from firing unless the safety on the tip of the trigger is engaged. It also has a manual safety that prevents firing unless disconnected. As if that's not enough, there's also a magazine disconnect that prevents the pistol from firing without a magazine.
There's also a loaded chamber indicator that lets you see if there's a round in the chamber and the pistol is ready to fire. The operating controls include a small thumb safety that isn't obtrusive and needs to be actively engaged or disengaged. However, if you're one of the folks who prefers no external safety, the pro Ruger models come without manual safety or magazine disconnect.
---
9. Concealability
Because the Ruger LC9 was specifically built with the purpose of concealed carry in mind, we don't have to mention that, naturally, it is ultra-concealable. But we're going to anyway. The extremely narrow frame makes the LC9 easy to conceal and significantly reduces any chance of printing - where the outline of the gun protrudes through your clothes.
It also has a weight of 17.2 ounces, so it is ideal for those who want a comfortable conceal carry firearm that doesn't become heavier with prolonged wear. Because of this, it's also a great option for pocket carry or deep concealment, like in cargo short pockets. If you use an IWB holster, you'll find that it easily disappears inside your belt and leaves enough sticking out to get a proper grip when drawing.
---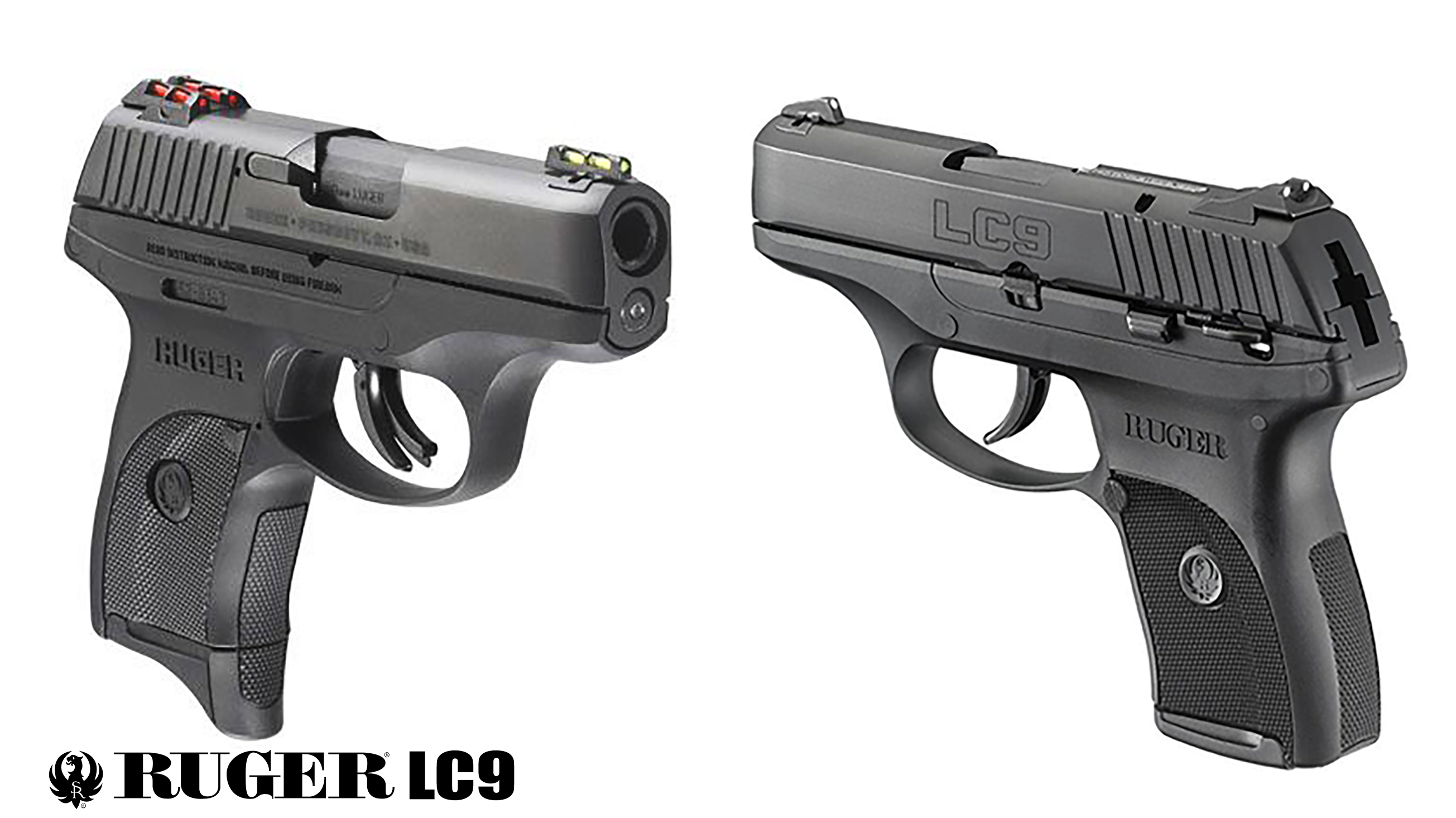 Ruger SR9
Weight: 17.2 ounces unloaded
Sights: Drift-adjustable 3-dot
Safety: Integrated trigger safety, manual safety, magazine disconnect
Grip: Black, High Performance, Glass-Filled Nylon
Purpose: Concealed Carry, Personal Protection
---
10. Ammo
As we said, the LC9 was developed in response to a need for a deep conceal 9mm option. As the most popular round globally, the LC9's ammo is far superior to the likes of .25, .32 or .380 for self-protection. Some shooters have even discovered that a higher quality ammo like Wilson Combat reduces felt recoil. The Ruger LC9 comes with one 7-round magazine, so you can carry a total of 8 rounds with one in the chamber, an impressive capacity compared to other single stack 9mm handguns. The magazine disconnect safety also gives additional security.
---
11. Customization
Ruger's house style is a smooth and sleek black and everyone knows black never goes out of style. But say you wanted something different, the Ruger LC9 has a wide variety of colors and finishes to choose from that include bright yellow, pastel green, and blue water patterns. Through distributors you can also take your pick of your share of customizations like lasers, holsters and extended 9-round magazines.
Reviews
● "I am always impressed by the accuracy Ruger offers in their weapons. That's the main reason why they're my favorite manufacturer."
● "After using my LC9 Pro for 500 rounds, I haven't experienced any problems and it eats anything I feed it."
● "The LC9 is a great concealable pistol to carry in cargo shorts. On top of that it fires each time, every time, almost as if it's a round gun."
---
Rene Aguirre is the founder and owner of Bravo Concealment. Rene has been carrying concealed on a daily basis for over 8 years and has been a CHL (concealed handgun license) holder for more than 20 years. Finding a high interest in firearms for many years, Rene started Bravo because of the "lack of" a good concealed carry holster.