Non-Stocks:  More Ways to Rock Your Glock
Glocks are the most common handgun worldwide. An entire sub-industry of Glock accessories thrives. Those accessories go way beyond holsters and sights. It's even possible to make your Glock work like a rifle, sort of. When fitted with a rifle-type stock kit, a Glock's utility becomes even diversified and enjoyable.
What is a Glock stock? It's a term I use to refer to a kit, made of polymer, that forms a shroud over the gun and increases its overall length. The current fashion of these devices it to lend the appearance of an AR platform carbine. Essentially, a stock kit turns a Glock into a pistol caliber carbine, usually at a fraction of the cost to purchase a separate firearm.
In the last few years I've had the chance to try three Glock stock systems. Each has been non-NFA (National Firearms Act) regulated, which is to say the rifled barrel length is at least 16 inches, or stock type does not invite shoulder-mounting by virtue of the firearm having an overall length of at least 26 inches. Except in one case where the 26-inch rule is met, none have a vertical foregrip large enough to grab with a fist.
Please keep in mind that, other than having a rifled barrel of no more than 16 inches and the standard of "designed to be fired with one hand," the description I've provided above is a personal interpretation based on actual court rulings that interpreted ATF's vague guidelines and unpredictable legal interpretations of them. This article is written with a working assumption that the first time Glock stock buyer is purchasing an item that is not NFA-regulated and thus is not required to apply for and purchase a $200 NFA tax stamp.
With the legal considerations, why bother with a Glock kit? Well, there really are no legal considerations if you pick a kit to which the NFA doesn't apply. For people with certain disabilities, a braced pistol can be much easier to shoot than a traditional handgun. It gives an economical way to practice certain principles of carbine shooting without the added ammo expense. It can be easier to be accurate. And, they're fun to use.
The following are some examples of stocks (and barrels) I've had the opportunity to use with my Gen 4 Glock 17 and/or 19. When set up as described, none require a "tax stamp."
1. Recover Tactical 20/20 Stabilizer Brace Conversion Kit
 
By far the simplest to set up of any choice here. To set up this brace, two U-shaped polymer pieces are secured with two screws to the rear of the slide. This forms a charging handle. A single screw secures the brace to the front of the trigger guard. All hardware and tool included.
This is a compact, lightweight, and fun setup that allows the user to run with the pistol's existing sights and/or a red dot (which would serve as its own charging handle, therefore making this a one-screw setup). Optional upgrades include a single-point sling, mag holder, and even an OWB holster to carry it in the folded position.
Like many pistol braces, this one has a Velcro strap for securing it to a forearm if desired or necessary. It works well that way and is surprisingly stable when held at arm's length. I struggle to hold a .223-caliber pistol with the only points of contact being my forearm and pistol grip, but with the Recover kit, it's easy. There are many other ways to wield this brace and shoot well. I like to push it forward with my primary hand while grasping the butt of the brace in my support hand, "stretching" it for good stability.
Up front, there's some rail space to attach a light. Plenty of people might find this setup preferable to a plain Glock for home defense, especially left-handed people as the charging device makes it entirely ambi (assuming you're willing to do the task of moving your Glock's ambi mag release to the right).
The Recover Tactical 20/20 Stabilizer Brace starts at $99.95. Enhancements can cost up to $89 more. Distributor YRS offers a 10 percent discount for joining their mailing list.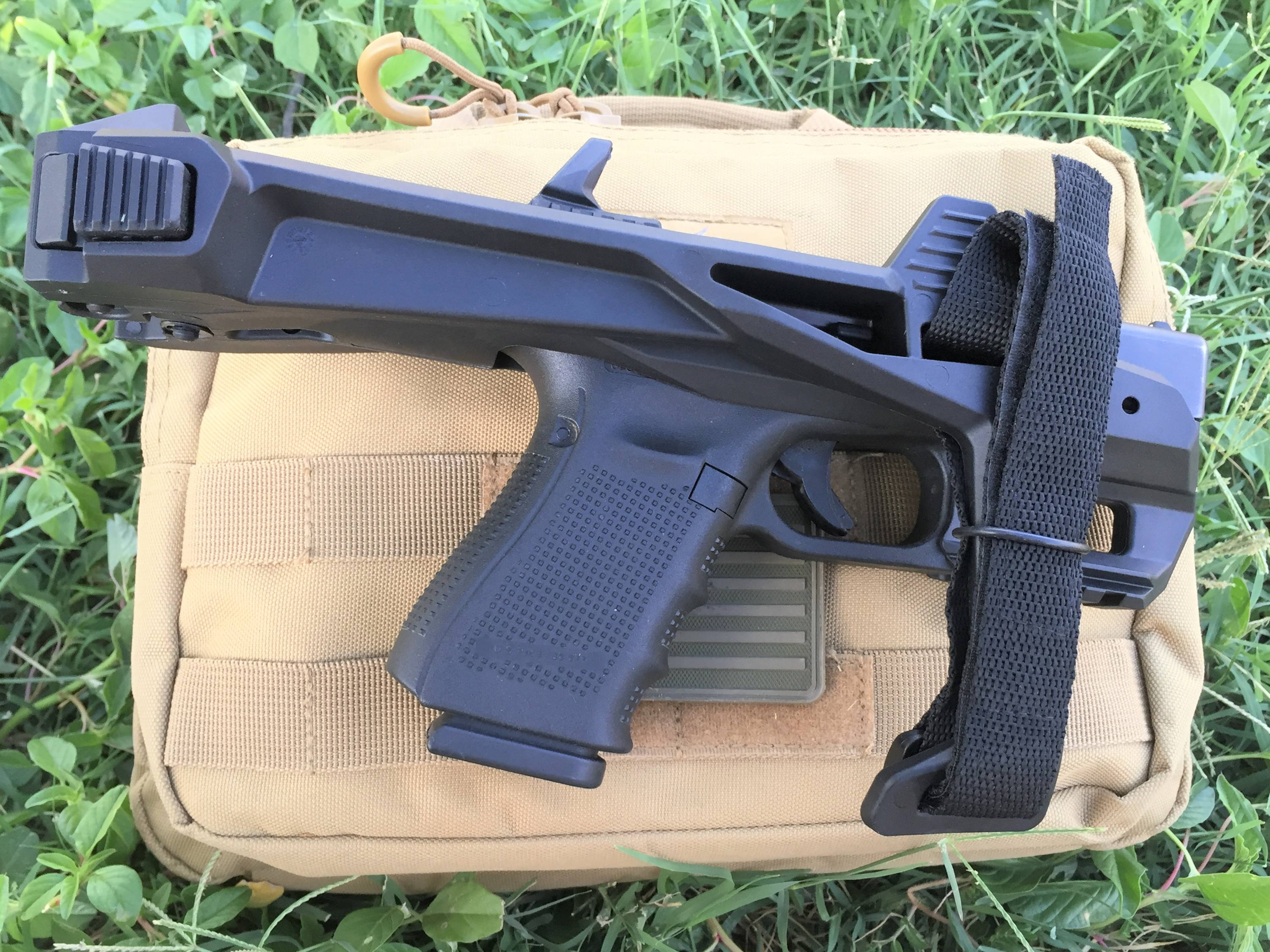 Recover Tactical 20-20 Stabilizer
Length, folded: 10.25 inches
Length, open: 18.0 inches 
---
2. CAA Micro Roni PDW Converter with IGB 16-inch barrel
 
Where the cool factor counts, the CAA Micro Roni wins. This is one very tactical-looking conversion that has a ton of features, my favorite of which is the extra mag holder in the buttstock. This full-featured converter has a folding foregrip and lots of places to attach accessories (you'll need your own AR-style sights).
An optional add-on is a thumb rest, which I thought was silly until I used one. This wedge-shaped attachment gives a good index point and positive grip on the forend. The folding stock makes it compact.
Since this model is meant to be shoulder-mounted, it is an NFA item—unless you add the IGB barrel that's available as a package with the Micro Roni for $679 before the member discount. This 16-inch barrel may look funny all alone on your Glock, but with the Micro Roni, it makes a great set-up. There are no fabulous bullet speed gains with the barrel, but it does eliminate the NFA hassle and, if you pick a threaded one, allows you to attach another NFA item, your favorite suppressor.
IGB Barrels are high-quality, Plasmonitron-hardened steel with a mirror finish in the bore. They alone represent more than half the price of the kit.
If you really want the best Glock kit available, and are willing to take up a little more space and part with more money to get it, this is your best bet. The original Micro Roni includes a three-year warranty.
Compatibility:
Fits Glock 17, 19, 22, 23 Gen 3-4 with rail. Will not fit any non-standard version of Glock.
Material:
Aluminum & Polymer
Measurements (without 16-inch barrel or Glock):
CAA Micro Roni PDW Converter
Length: 18.5 inches (closed) to 22.5 (open)
Beware of copies! Many sellers are selling an airsoft version of the Roni, made of plastic. The original Roni is made with strong aluminum rails and polymer.
---
3. IMI Defense Kidon Innovative Pistol to Carbine Platform
 
This kit is easy to set up, and available for many brands in addition to Glock. It uses the same charging handle system as the previously mentioned Recover Tactical 20/20 Stabilizer.
Like the Micro Roni, the Kidon is super-tactical in appearance and features. Unlike any model mentioned here, it can go from being your pre-tax stamp pistol to post-tax stamp short-barred rifle with a simple change to the stock area. Start with the no-stock version and then upgrade if desired. With a real stock, its an NFA item. With a simple buffer tube attachment, it's a pistol and legal without the stamp.
Flip-up, adjustable, AR-style front and rear sights come standard with the Kidon. It's easy to outfit it with a favorite sling, auxiliary light, or optic.
I really like the Kidon's adjustable-length shroud in front of the muzzle, which effectively eliminates muzzle flash. Though it can't be shouldered as a pistol setup, I find it very enjoyable to operate with the buffer tube against my cheek as a rifle stock would be. The great sights and angled foregrip make it easy to be accurate with this kit. Did I mention it's ambidextrous?
One caveat to this recommendation is that the front surface of my Glock 19's front sight was significantly marred from the Kidon. Could be that I made some mistake on installation. Currently I'm awaiting comment from YRS on this.
If I had to pick a personal favorite on this list, the Kidon would be it. In terms of being able to grow with your tax stamp status for the money, and in terms of compactness, it delivers the best of all Glock stock features in one. It also has color options---black, green, and tan.
As of this writing, the Kidon Kit is on sale for $459. It's regulary $599 before the member discount.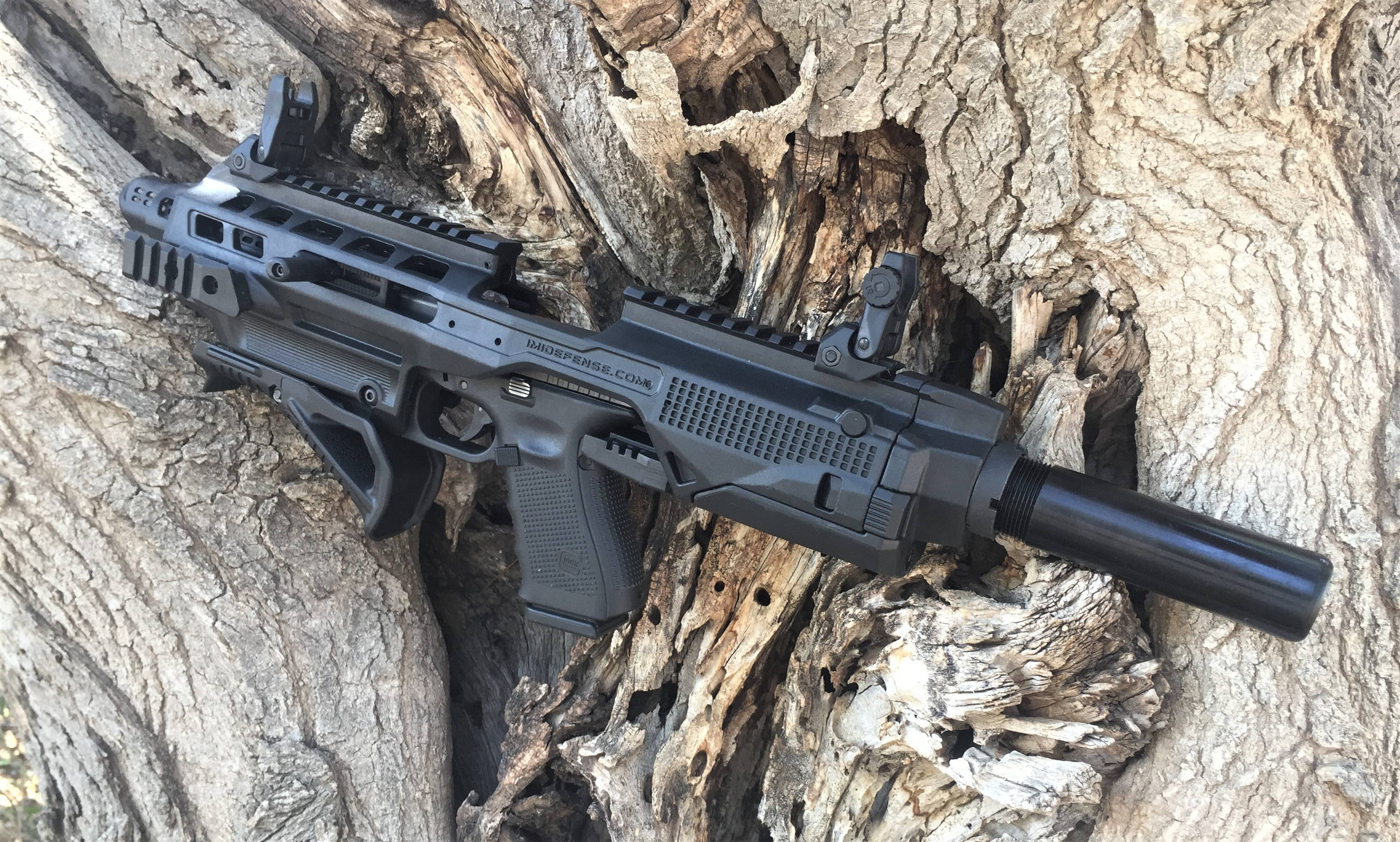 IMI Defense Kidon Innovative Pistol to Carbine
Width (at handguard): 6.0 inches
Weight (without firearm): 2 pounds, 4 ounces
The common thread
Using virtually any kind of device that clamps over the gun means that your gun-cleaning obligations will increase. Carbon particles that normally disperse into air are partially trapped. That means buildup of gunk will happen faster. Though I've noticed this with every test, the Glocks in question never failed to cycle.
All of these braces/non-stocks are made in Israel. Each is a product of thoughtful design with influence from current and former Israeli Defense Forces (IDF) warriors. Each delivers high-quality construction. YRS, Inc., as the major US distributor of these brands, has been generous to share samples with me for testing.
This article may contain minor technical errors, thanks to this author working with novel equipment. Please consult with YRS with questions before purchasing to be sure you are getting a legal product and one that will meet your needs.
---
Eve Flanigan is a defensive shooting and concealed carry instructor living in the American Southwest. Today she works full time as an instructor and writer in the gun industry. Flanigan loves helping new and old shooters alike to develop the skills needed to keep themselves and their loved ones safe.