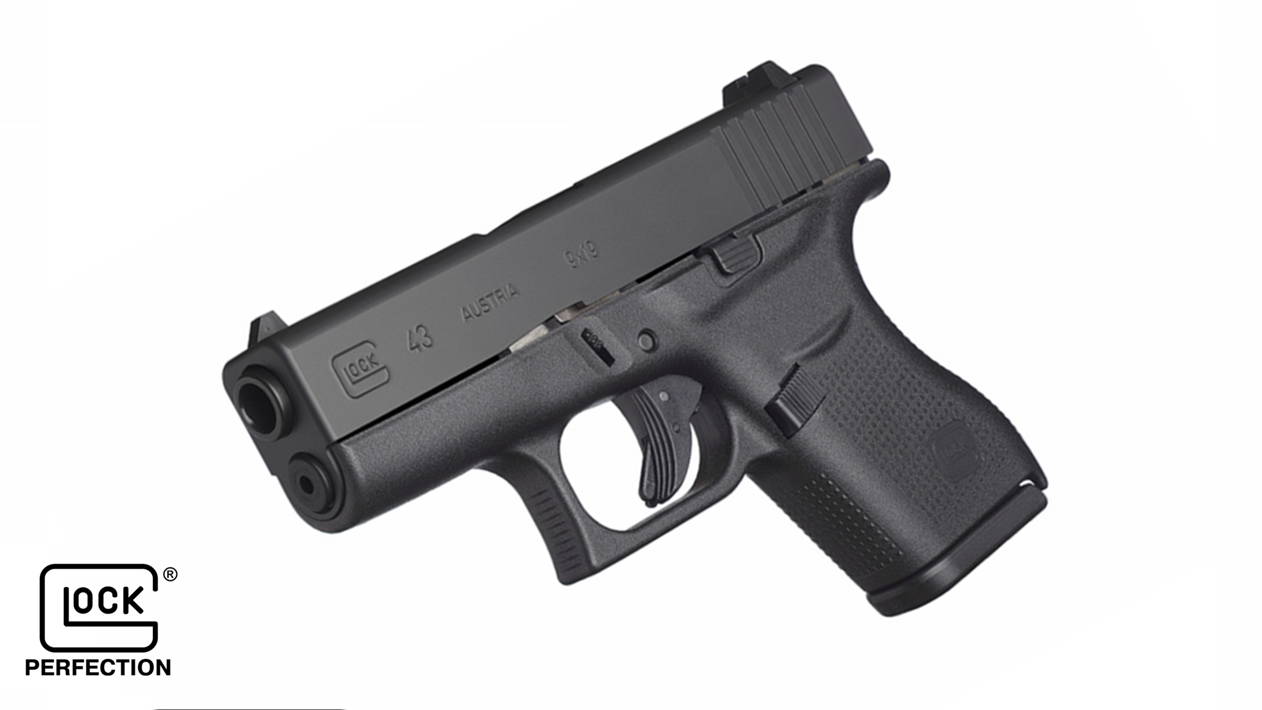 Everything you need to know about the Glock 43
Just like subcompact automobiles, subcompact handguns have been designed for a very specific purpose and aren't necessarily for everyone. Some people are just not comfortable carrying a full-size (or even mid-size) weapon like the Glock 17. However, this is usually less about confidence and more about being able to comfortably conceal carry IWB.
Before the single stack 9mm came along, your alternative deep concealment options were limited to .38 snub nose revolvers and .380 autos like the Bersa Thunder or Walther PPK. While the .38 snub nose revolver is dependable and easy to conceal, its long trigger pull and high recoil make it notoriously difficult to shoot, not to mention the width and limited 5-round capacity. On the other hand, 380 pistols may be a little too weak for effective self defense and have a reputation for being finicky with ammo. Smaller, thinner and faster to reload, the 9mm single stack was designed to solve these problems.
As the first 9mm single stack released by Glock, the legendary Glock 43 was engineered with the same superb standards that the Austrian manufacturer is famous for. This tiny 9mm luger caliber pistol is ultra-concealable and accurate. It's less bulky than its bigger brothers like the Glock 26, but it tolerates the same torture tests without compromise.
But what makes the Glock 43 stand out among all the other 9mm single stacks out there? Here's a complete breakdown of everything you need to know.
---
Performance
First and foremost, the Glock 43 has something that other brands don't: a track record. Compared to other brands that have only been out since the 2000s, Glock has been in the gun game since the 1980s. As such, they have an impenetrable reputation. Even the biggest newbie will have heard of Glock.
The first weapon that propelled the novice gunmaker Gaston Glock to fame was the G17 - a double-action 17-round pistol that earned credit for reliability, accuracy, and ease of maintenance. Glock has never dropped the ball since.
---
●

Grip

  The Glock 43 grip has a similar length to that of the G26. It has a built-in beaver tail design and a 108-degree angle - another feature iconic to Glock. This lets the shooter acquire a high and tight grip. It also has an aggressive grip texture to help with reliable operation of the pistol, but many prefer to stipple their grip to counteract its powerful kick.

  With such a thin, single-stack frame, the G43 may be a bit more violent in the hand - but this is not uncommon of highly concealable single stack subcompact pistols. You can get a fullish grip with the pinky extension magazine or, alternatively, add a grip extension if you prefer better ergonomics or have bigger hands.

 

● Trigger

  One of the few things that Glock had against them was trigger quality. To be fair, there wasn't really anything wrong with the triggers, they were just gritty, long and heavy. If you were used to the match grade trigger of a 1911, you would find this trigger hard to manage. But because Glocks are designed for duty and defensive carry, a heavy trigger made them safer to carry.

  That being said, the Gen 5 Glock models have far more superior triggers than their predecessors. The G43 has a trigger reach that is dimensionally the same as larger 9x19 pistols in the Glock lineup. It has a standard trigger pull of 5.5 pounds with a crisp and clean break. Best of all, the trigger weight pull stays consistent from the first to the last round because it's snag free and has no manual safeties.

 

● Accuracy

  Paired with the aggressive grip texturing, the Glock 43 has great "point-ability" - that is, the ability to bring it on target easily. As a result, it's easier to control and is more accurate. Follow up shots are easy to send with good accuracy, granted it's at close distance. Once again, the overall small frame does make it snappier than most, so it will probably be more accurate in the hands of someone who is used to firing thin single-stacks.

 

● Reliability

  As we mentioned earlier, Glock is synonymous with reliability and the G43 is no exception. Because it has continued to live up to the high standards the manufacturer has set, it's completely understandable that Glocks are the number one choice for military and law enforcement. Authorities have been field testing Glocks for decades with only the best results.

  Besides, with every new Glock generation, the Austrian engineers make even more adjustments to it to optimize their lineup. Even the G43 holsters and other accessories are exceptional.

 
● Sights

  Both the front and rear sights come in polymer. While they work perfectly fine, many carriers choose to swap these out with metal alternatives. Another iconic Glock feature that CCW enthusiasts love to hate or hate to love are the U-shaped rear sights. If this is not for you, Glock's massive aftermarket support ensures you have endless options to choose from if you want to change up your G43 sights.
● Reassemble

  Built to be reliable and low maintenance, the Glock 43 is eminently shootable. Just think of Glock as the AK-47 ofpistols. They can take all kinds of neglect and abuse and still function perfectly. But just because they can doesn't mean they should, and you have to make time to clean and take care of your Glock.

  Luckily, you won't need to take it to your local gunsmith, because the Glock 43 is easy to field strip if your RSA is properly seated. The G43 breaks down into four main parts in a matter of seconds, greatly decreasing the number of easily breakable parts. Remember, if you take care of your firearm, it will take care of you.

 

● Looks

  With its polymer frame, steel slide and beaver tail design, you'll be forgiven if you think you're looking at a downsized version of the Glock 19. However, it cuts down on the size by a large margin because of the single stack design. The Glock 43 combines the design of the G19 with a superior non-reflective black finish to be the ultimate service pistol.

 

● Safety

  Just like every other Glock, the G43 has no external safety that will get in the way. Instead, it comes with three passive, independent safeties. This Safe Action System is backed by torture-testing and ensures your G43 only goes off when you pull the trigger.

  This is highly beneficial in cases where you need your Glock 43 ready for action. All you need to do is load the magazine, rack the slide, line up your sights, and you're good to go!

 

● Concealability

  A lot of carriers have been slowly moving away from their double stacks in favor of something that allows for deeper concealed carry. And here comes along the Glock 43 - made specifically to be a CCW. Because it's slightly smaller than other single stack 9mm guns like the M&P Shield, the profile prevents obvious printing and is much easier to tuck inside your waistband.

  With a width of only 1.02 inches, the Glock 43's size is a major selling point. It's on the verge of being a pocket-sized gun and can be holstered like a wallet. (Still, you should always have the right holster, regardless of how you carry.) Essentially, the G43 is ideal for when you're looking for utmost conceal-ability.
---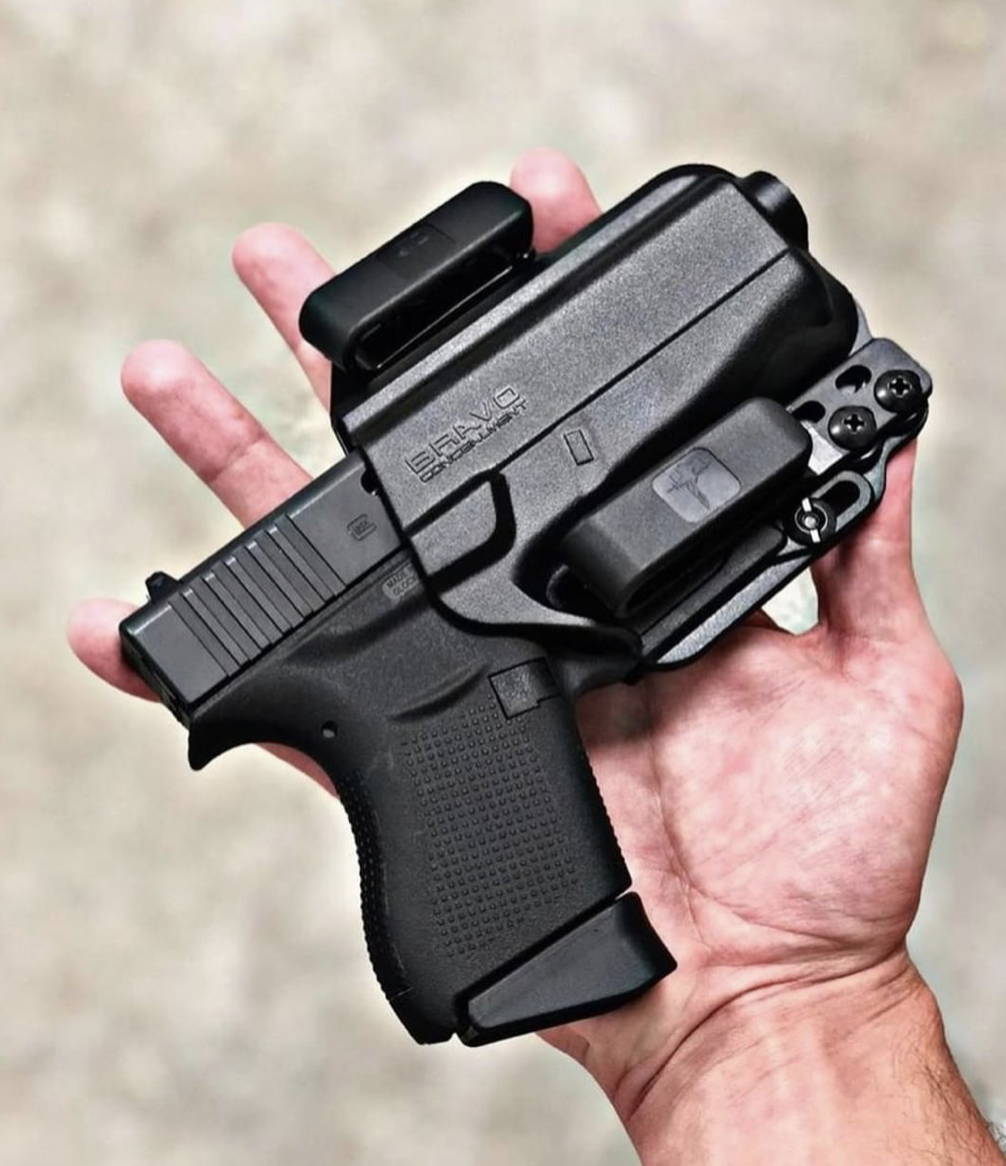 Glock 43
Height: 4.25" with magazine
Weight: 17.99 ounces with empty magazine
Safety: 3 Internal Safeties
Purpose: Concealed Carry, Personal Protection
Ammo
The Glock 43 comes with a flush magazine and a pinky-extension magazine. The large magazine is easy to remove with a beveled magazine release and safety. And the flush-mount mag gives you the ultimate conceal-ability. The capacity may be limited to 6+1 rounds with the standard factory mag, but once again, there are many aftermarket magazines available if you want to increase capacity to 7+1 or 8+1.
Under testing, the Glock 43 has run a wide variety of defensive ammo like Federal Premium 124gr HST JHP, Hornady Critical Duty, and Winchester PDXI 124gr +P JHP without any malfunctions. Everyone knows the 9mm Parabellum is the most popular round not just in the US, but also in the world. There's no reason to compromise and carry the .380 if you have a compact and concealable 9mm like the G43.
---
Customization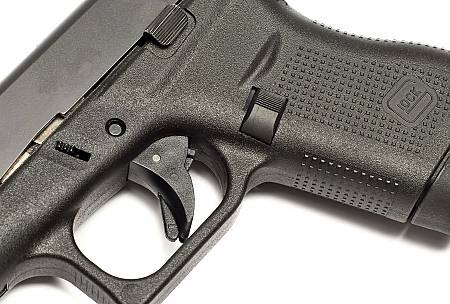 One of the main reasons people buy Glocks is because of the massive aftermarket support. Aside from 1911, AR-15, and Ruger 10/22, there aren't other manufacturers that can match it. This means that you can basically upgrade your Glock in so many ways to suit your specific needs. From magazine extensions, grip texture, and sights to trigger and finish, you get to completely make your Glock 43 your own. There are even options for laser sights!
---
Holster
If you choose the G43 as your CCW, you'll probably want a holster that is more inconspicuous. Remember what we just said about aftermarket support? Given how pervasive Glock is, you'll have no trouble finding your perfect holster. The G43 is a great fit for an IWB holster, but can also work if you want to pocket carry - with the right holster of course. No matter what CCW position you choose, remember to practice extraction so you don't run into snags when you really need it.
---
Reviews
We're not the only ones who love the Glock 43, here's what other shooters have to say about their experience with it:
● The G43 is so light that I hardly know that I have it on me. Even in summer with shorts and a T-shirt, you can't see the bulge! I've put a few hundred rounds through it and it's accurate and reliable every time.

● Unlike it's little brother, nothing can make the G43 struggle! It's comfortable to shoot at the range and is more than accurate.

● This is just the thing for carriers who want a small, reliable, comfortable every day carry gun.
---
Rene Aguirre is the founder and owner of Bravo Concealment. Rene has been carrying concealed on a daily basis for over 8 years and has been a CHL (concealed handgun license) holder for more than 20 years. Finding a high interest in firearms for many years, Rene started Bravo because of the "lack of" a good concealed carry holster.