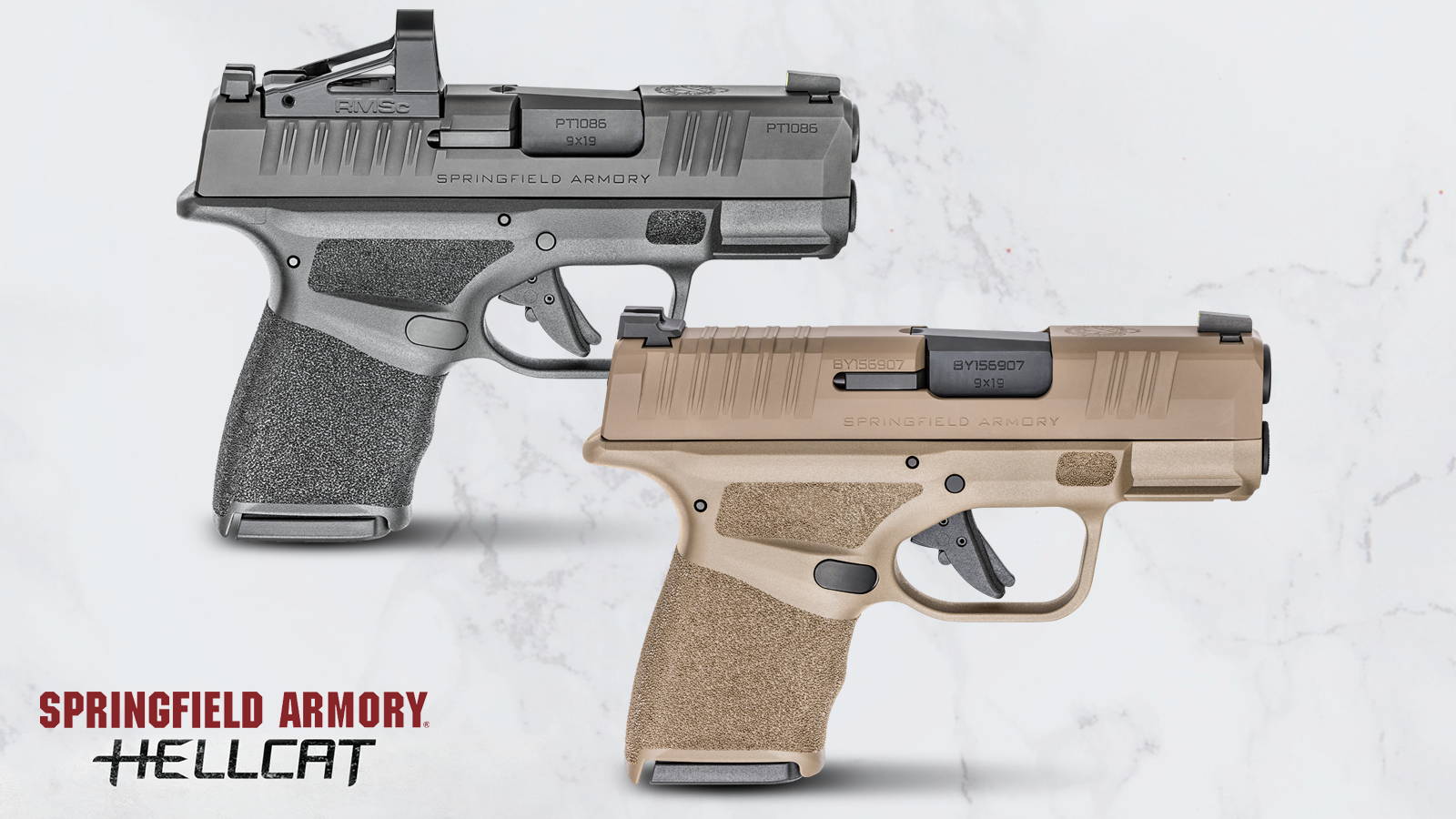 Springfield Hellcat 9mm: Everything You Need to Know
When the Sig Sauer P365 first arrived on the scene, it changed what concealed carry looks like. This little 9mm made such a big splash because people couldn't quite figure out how they managed to fit 10+1 rounds into that small frame. Since then, many other manufacturers have been trying to make compact concealed carry handguns to rival it. None have quite measured up to the P365. Until the Springfield Armory Hellcat was rolled out. This micro-compact gun is able to do everything the Sig can, while also giving you one more round.
Referred to as the "world's highest capacity micro compact," the Springfield Hellcat is 4 inches tall, just an inch thick, weighs less than 19 ounces unloaded, and boasts an overall length of just 6 inches. Because of these impressive dimensions, it can be easily concealed and worn comfortably. But that's not the only impressive thing about the Hellcat - it stuffs a full 13+1 rounds of 9mm into the size of your average pocket gun.
The striker-fired Hellcat is available in two models: the standard configuration and another called the Optical Sight Pistol (OSP.) The difference between the models is only really that the OSP has a slide cut for a micro red dot, which is significantly less expensive than getting your slide milled later.
With competitive pricing and impressive capacity in a comfortable design, it's clear that a lot of thought went into the Springfield Armory Hellcat. Here's a breakdown of everything you need to know.
Performance
1. Grip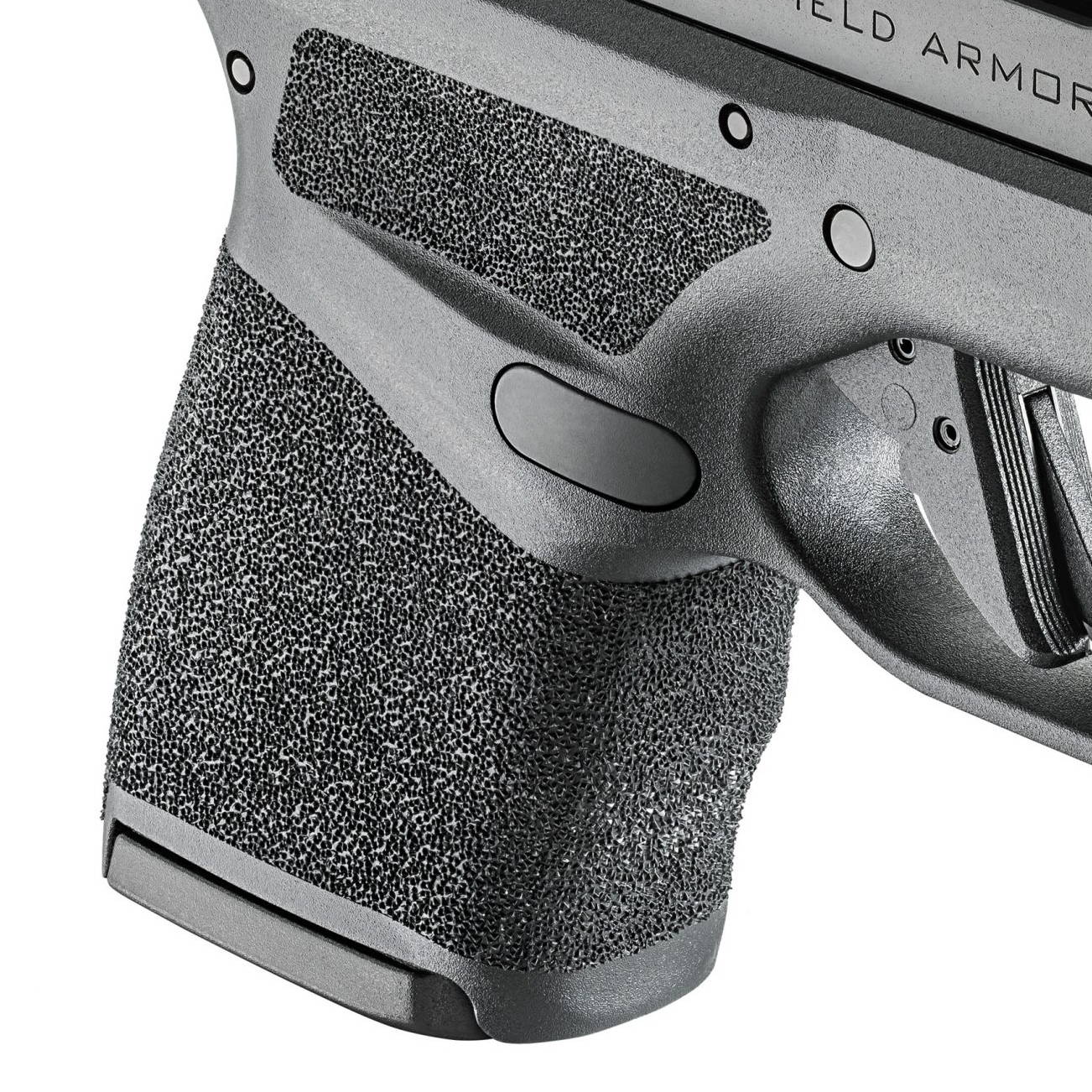 The Hellcat boasts something Springfield Armory calls "Adaptive Grip Texture" which is designed to increase your hold the tighter you grip it. This pressure-activated texture consists of tiny pyramidal shapes that are handmade in the mold. "The taller pyramids have a flattened top to ensure comfort in the waistband and reduced wear on clothing while the shorter pyramids come to a point and are engaged when the pistol is firmly gripped. This creates a unique surface that is smooth to the touch yet firm when gripped," says Steve Kramer, vice president of marketing at Springfield.
The grip texture resembles skateboard tape and, while it's not nearly as abrasive, it still provides a solid grip, even with wet or sweaty hands. The texture goes all the way around the grip including the upper thumb position above the magazine release as well as on a small section on the forward part of the frame. This makes a great resting place to index your finger while holding the gun as well as positioning your weak thumb with a  thumbs-forward grip. In addition to the grip, the generous beavertail design locks the pistol in your hand with a high grip, resulting in minimal muzzle rise during recoil.
2. Trigger
The Nickel Boron coated trigger is probably one of the better bangswitches on a striker-fired pistol. There's a clean take-up and very slight bump before it's fully staged. The Hellcat's trigger has been praised in many reviews because it breaks cleanly at 5.7 pounds with a tactile and audible reset that kicks in halfway through the release.
This means you'll be able to have speed and precision when required and can make quick and accurate follow up shots. There's a dust cover rail with standard-sized slots for accessories at the front of the frame and the trigger guard is dramatically undercut for optimal ergonomics.
3. Accuracy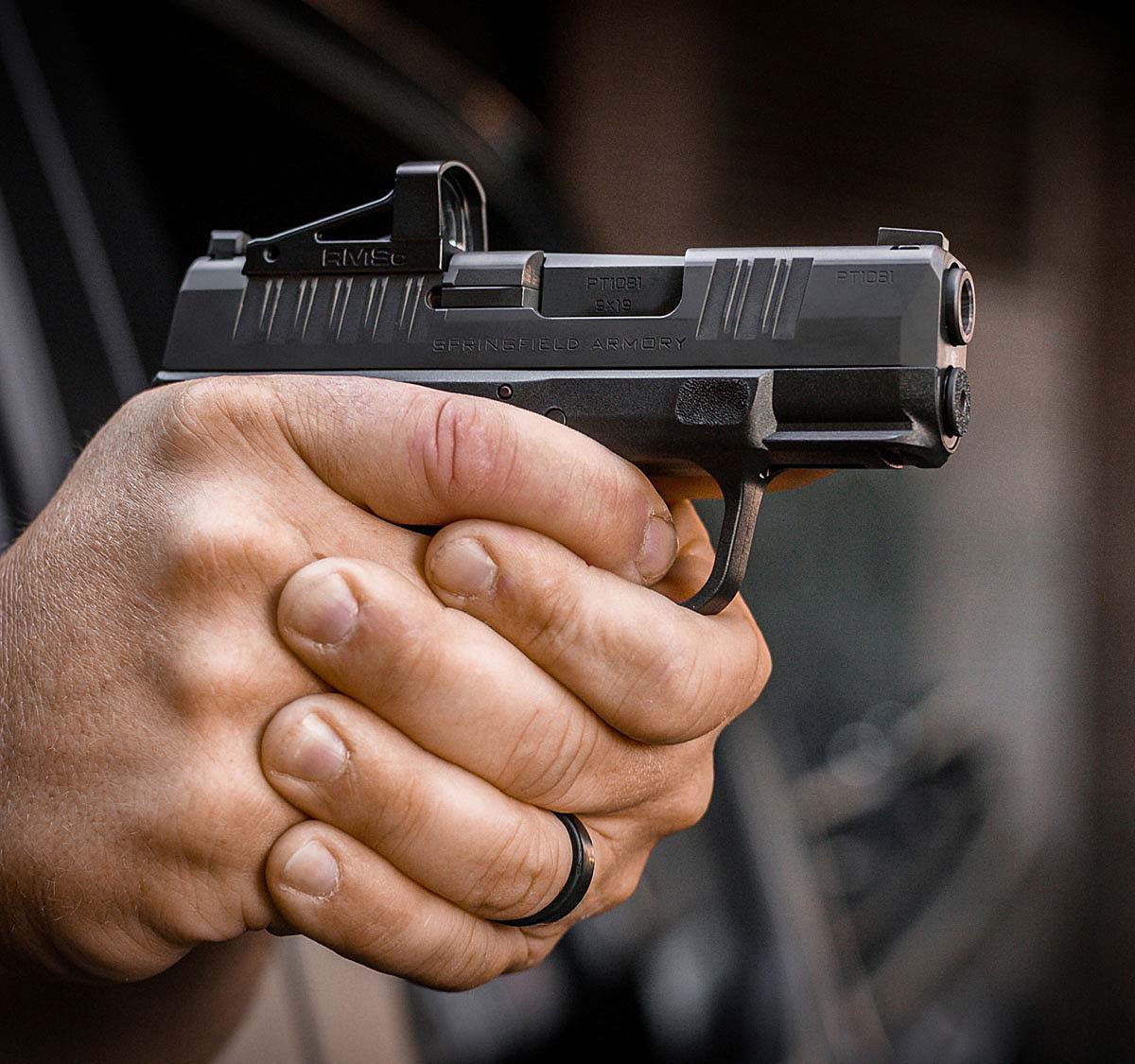 Part of why the Hellcat has received so many positive reviews is because it consists of a powerful blend of ergonomics and accuracy. This striker-fired pistol's beavertail design protects the shooter's hand and promotes a high and firm hold, resulting in extreme accuracy at personal defense distances. The backstrap is also as wide as the gun is thick so that the recoil is spread over a bigger area. 
4. Reliability
The Springfield Hellcat endured two days of reliability and accuracy testing by a local expert. From conventional positions to staggering the mag with different loads and bullet weights, it didn't fail once. It feeds a full range of ammo with different bullet weights without complaint. Springfield Armory also uses a dual recoil spring system to give the gun the spring mass needed for reliable cycling. The front of this spring system extends past the muzzle and prevents the slide moving out of battery when making contact with a hard surface.
The Hellcat barrel and slides are machined from billet and serialized to the gun. These parts are also given a Melonite finish for corrosion resistance.
5. Sights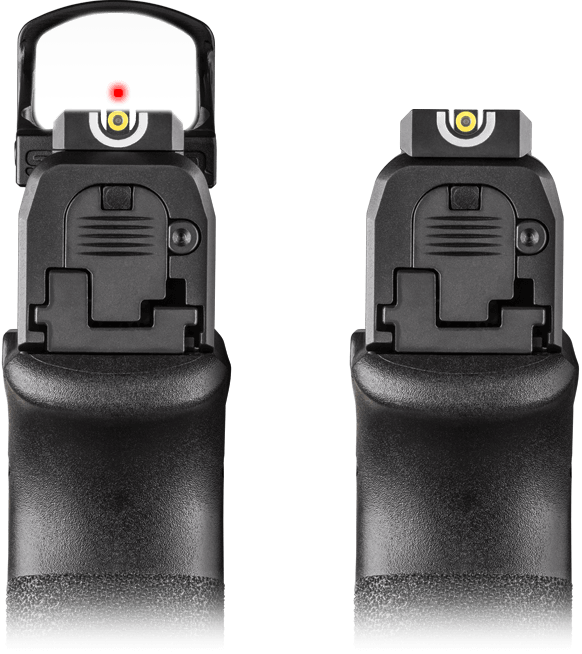 The Hellcat sports an impressive set of what Springfield Armory calls U-Dot sights. These are intuitive and accurate with tritium/luminescent sights in the front and a tactical rack U-notch in the rear. The rear sights are drift-adjustable metal outlined in white and aren't ramped, which is handy for if you need to use it to rack the slide on a hard surface or tactical rack if you only have use of one hand for some reason.
Springfield also mounted an Ameriglo Pro-Glo high visibility tritium night sight that boasts a  tritium vial surrounded by a day-glo rim for optimal visibility in any kind of lighting. The grip angle of the Hellcat also supports instinctive sight alignment with the U-notch rear and front sight. There's also the option of mounting a red dot sight on the OSP version. And if you're concerned about a dead battery or sight failure, Springfield provides iron sights on the OSP that co-witness with the red dot, so you can just use the irons as a backup.
6. Reassembly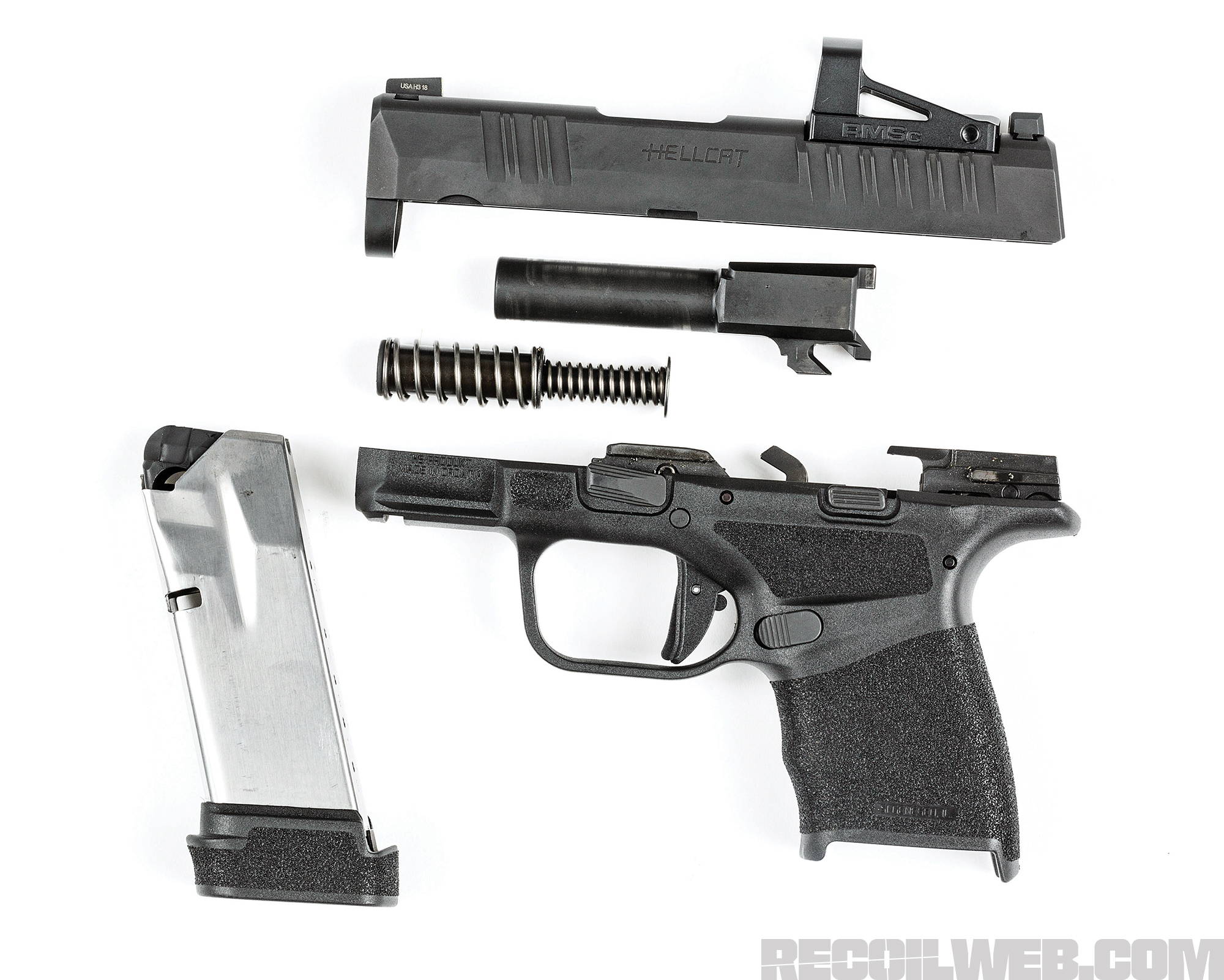 When it's time to clean your Hellcat 9mm, you'll find it's really easy to remove the magazine, ensure the gun is empty, lock back the slide and lift the takedown level upward. The slide eases forward without a hassle. Because of the recoil spring guide, there's no spring-to-spring contact with this design, making disassembly and reassembly a breeze.
7. Looks
As far as polymer frame guns go, the Hellcat is definitely closer to the top of the list when it comes to looks. In fact, some say it's the best looking Croatian gun that Springfield has produced. It has unique top slide serrations to maximize your grip. These are located at the front and rear, and have been designed for positive engagement in adverse conditions. However, it has to be noted that these serrations aren't very aggressive and your grip may slip when racking the slide with wet or sweaty hands.
8. Safety
Another thing that sets the Hellcat apart from others in this category is that it's the first striker-fired Springfield pistol with no grip safety. There's also no frame safety. Instead, the Hellcat pistol comes with a safety blade on the forward angled flat trigger. This modest little blade does the same job as manual safeties did on old school combat guns. Simply put your finger in the trigger guard, place your finger on the trigger, and the safety automatically deactivates.
Essentially, this means that while your Hellcat is inertly lying on the table or inside your holster, the firing mechanism is locked out via two independent safety systems. The firing pin won't be able to contact the primer unless the trigger is pulled, and the trigger can't be pulled unless your finger first deactivates the blade safety on the trigger face. So in the unlikely event that your Hellcat might strike the ground, the safeties have your back.

9. Concealability
The Springfield Hellcat comes with an 11-round flush-fit magazine and an extended mag that packs a whopping 13 rounds. For ultimate concealability, the flush mag is the way to go. Springfield also includes a pinky extension that can be added to the 11-round mag for more comfort.
Weighing only 18.3 ounces, this handgun is extremely easy to carry. The small profile makes it easy to conceal in many different carry positions and you hardly notice it's there throughout the day. In addition, all the Hellcat's external controls are designed to be low profile to be able to deep conceal with as much comfort as possible.
---
Springfield Hellcat
Height: 4" w/ Flush Mag, 4.5" w/ Extended Mag
Weight: 18.3 oz w/ Flush Mag, 18.6 oz w/ Extended Mag
Capacity: 11+1 (flush magazine), 13+1 (extended magazine)
Sights: Drift-adjustable rear U-notch, Ameriglo Pro-Glo front night sight
Safety: Trigger lever, striker-pin block
Grip: Adaptive Grip Texture
Frame Material: Textured polymer
Purpose: Concealed Carry, Personal Protection
11. Ammo
The Hellcat's flush fit mag gives you 11+1 capacity while the extended mag ups its capacity to 13+1. If you're someone with bigger hands, you'll appreciate that the extended mag gives you a full-fisted grip. Springfield achieves the impressive round count by means of a patented stack-and-a-half magazine that tapers towards the top to become a single stack. So essentially, it fits the diminutive magazine without wasting any space. With 9mm being such a popular round, your Hellcat will eat almost anything you feed it and you won't struggle to find ammo.
12. Customization
It has to be taken into account that, unlike brands like Glock, Springfield Armory is relatively new as a pistol platform. As a result, there's not a wide variety of customizations options available yet. However, there is a small standard rail where you can add a light or laser if you want to and, of course, you have the option of a red dot with the OSP model.
13. Holster
While customization options are limited, there are a few holster options to choose from. Even when fully loaded, the Hellcat boasts a reasonable weight of 22 ounces, so you have a lot of options if you want to CCW. It works well as OWB, but can also work in the IWB or AIWB positions with relative ease and the right holster.
14. Reviews
●  "The best thing on this pistol is not the capacity, size, or optic ready option. It's the feature where you can push the firearm into something and it does not come out of battery."
● "Micro compact 9mm with a red dot sight… What else could you want in your CCW?"
● "Being able to use the rear sight to rack the slide is great for those who are trained and prepared for all situations."
---
Rene Aguirre is the founder and owner of Bravo Concealment. Rene has been carrying concealed on a daily basis for over 8 years and has been a CHL (concealed handgun license) holder for more than 20 years. Finding a high interest in firearms for many years, Rene started Bravo because of the "lack of" a good concealed carry holster.